I love the rain, especially if I can stay home and listen to it.
But, this Saturday morning I ventured out to run some errands.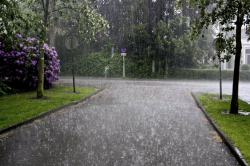 I was surprised by the number of people walking in the rain. They were strolling, in no hurry, enjoying themselves.
While I was at the grocery store, a woman approached me telling me she was out walking and how she just loves the little town where I live ( and evidently where she lives, too.)
This got me thinking of how truly fortunate we are to live in a nice place and enjoy the weather, no matter what that brings.
It is better to think positively than negatively. And to express that to others as well.
When I returned the cart to the store after putting my groceries in the trunk of my car, I noticed the woman walking out of the parking lot. She was taking her time, looking at all the beauty around her. At that moment, I thought how wonderful it would be to take a walk . . . but I was glad to have my car and I'd be home with my groceries in about 5 minutes.
As I'm writing this, I'm thinking about taking a walk . . . take my camera with me . . . just to capture this priceless moment of serenity with the rain and the beauty the day has to offer.
I'm pretty much comfortable with my laptop, listening to the rain, with my precious Yorkshire terrier, Diva, sleeping next to me.
This is a great day to curl up with a good book, watch a great movie, do a craft item or put together a jigsaw puzzle.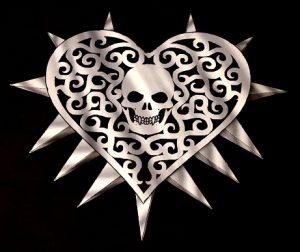 Since Valentine's Day is right around the corner, I was wondering what Ray O'Bannon of RavensBlight had available to make.
Yes, it is a bit on the dark side, but you have to admit it is unique. It has a skull and spikes around it. Just the thing to give to your special Valentine. It's truly a one of a kind gift box.
Just click the image to be taken to the PDF you can print out on card stock, assemble and fill with delightful sweets.
Here's the link to the Assembly Instructions for this exceptional Valentine's Box compliments of Ray O'Bannon from RavensBlight.
This could be a keepsake box as well. I'm sure I'll bring it out again for fall. It would be wonderful for Halloween.
The reason I think this box is so great is because of all the people who thoroughly enjoy Halloween and give all celebrations throughout the year with a bit of a macabre twist. Make up a few of these and see how welcome they are among your friends and family.
Whatever you choose to do today, rain, snow, sleet, hail or sunshine, I hope you have a lovely day.
Thanks for stopping by!
Sharon