I was at a used bookstore one afternoon and I found this old diary.
I was excited about it, but I was also nervous about buying something as private as a diary, but I bought it and kept it in my car for a few weeks before smudging it and bringing it into the house. Then, it took me a few more weeks before I sat down to read it.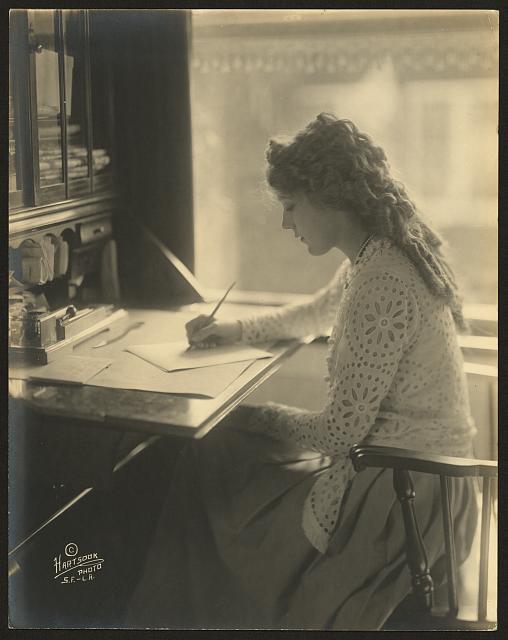 The  year was 1864.
The diary opened with accounts. Adaline Murphy and Franklin MacArthur were making plans for a June wedding. They had begun pooling their accounts.
Adaline lived with her mother, father and brother outside of town. Her mother read tea leaves, cards and made potions of various kinds the "well to do ladies" wanted to keep their husbands faithful and give their children an edge over their peers. Adaline's specialty was a face cream to keep women looking young. She always had something brewing in the cauldrons out back. There were all sorts of potions that were in demand.
Franklin was a friend of Adaline's brother. They ran the local horse and buggy service to take ladies shopping or to take crops to market for the various farmers. They also would deliver furniture to the various mansions they picked up at the train station or at the docks. They had a good business. Adaline's father was a businessman, but it wasn't explained what kind of business he ran, but he was very successful in whatever he did and knew all the important people in town, but he never mixed with them socially. There was a definite line that wasn't crossed.  The fact that the Murphy's were considered gypsies could have been the barrier, but Adaline didn't seem to mind, they had a commodity that sold well and was always in demand.
Franklin's family were farmers. He was the eldest of eight siblings and went out on his own as soon as he saved enough money to start his business with Bentley Murphy. He lived in a room above the barn on the Murphy property, but every Sunday he and Adaline  would go to the MacArthur farm for Sunday dinner.
Adaline didn't go to school with the other children. She learned what she needed to know about business from her father and potions, card reading and cooking from her mother. She also had her own following of "groupies" who bought her hot lunch specialties during the week. The athletes would fill up on her stews and wear amulets she made for them. It was good no one asked what meat was in the stew. From what I learned from the diary, they would cook whatever got caught in their traps — even things that most people wouldn't normally eat.
Church Revivals were a big thing in the area and with all the land the Murphy's had, they invited preachers from all over the country to hold their revivals on their land. Although, the preaching and the tea leaf reading, potions, etc. didn't mix, they seemed to during these revivals. Adaline would lure them over with her cauldrons of tasty stew and whatever else they had to sell.
The sad truth revealed in the diary was Adaline had no loyalty to the hometown team. Money was money to her and her family. They would tell fortunes and make amulets for anyone who wanted one and would pay the price.
There was a big cross town rivalry homecoming game that was the talk of the town.
Both teams bought from the Murphy's and both teams thought they had the edge to be the winner.
After the game, with a close score of 56 to 57, the losing team heard about the Murphy's and how they must have made stronger amulets for the opposing team and they were going to get even with them.
Adaline was killed and never did marry Franklin. Mr. and Mrs. Murphy were out of town at the time and Franklin and Bentley were busy with their buggy service that night.
Franklin was heartbroken and never married. His eldest sister took Adaline's place behind the cauldrons and making potions and beauty creams. She had an interest in learning this craft and worked closely with Adaline  and later with Mrs. Murphy.
According to the diary Adaline's ghost had been seen on the back roads of the town. She was going to the school with her hot lunches. She was also seen in the woods selling amulets to women who passed through on their shopping trips. I believe Franklin's sister wanted to keep the legend alive and she would dress like Adaline and appear in the woods and sell amulets and potions. It seemed to be the talk of tea parties when someone bought an amulet or potion from the ghost of Adaline Murphy.
One incident occurred at the wedding of the star football quarterback. Some of his friends got a bit too drunk and loosened the reins of the horses on the buggy. The idea was for the horses to run off leaving the newlyweds stranded in the buggy, but something went wrong and when the men fired their guns they shot the young couple and the horses took off with the buggy and the dead newlyweds.
One entry said that the spirit of Adaline was seen at the wedding. It is believed she was seeking revenge of her murder.
Whenever she appeared at a wedding something went wrong either that day or with the young couple during the first few months of their marriage.
I don't know the truth of the diary. I don't know if Adaline's ghost appears from time to time to avenge her murder. It has become a local urban legend.
One diary entry I found particularly interesting was dated March 26, 1864:
Franklin and I are planning to go far far away once we're married. We don't want to raise our children here. We both know how to make money and we want to live in one of the fine houses and raise our children with all the fine things money can buy. Our children will want for nothing and they will have amulets and potions to fulfill their heart's desires. I will not be able to practice my trade openly, but Franklin's sister Mary may come join us and carry on in my place.
I don't know about being a fine lady, but I will learn for the sake of my children. Being backwoods gypsies isn't the life I want for them.
The smoke of the third cauldron foretells of my not seeing my wedding day. There will be no children and no great home. I am not meant to be a fine lady. I am who I am and the plans Franklin and I have made offended the ancestors. Franklin and I shall not be wed. My heart breaks with this revelation, but I cannot bring myself to tell him. I cannot bare to see him with another.
Mother says the smoke of the third cauldron tells the truth and it cannot be changed.
I suppose the blessing was that Adaline didn't know the full extent of her revelation. Too bad it wasn't a warning of what was to come so she, too, could have been away the night of the homecoming game, but it wasn't meant to be.
I found this entry to be a bit unsettling. I do, however, find it interesting how superstitions can be self-fulfilling prophacies.
Thanks for stopping by!
Sharon