This Blueberry Cream Cheese Recipe could be made into muffins or loafs. It's a moist delicious variation of ordinary blueberry muffins your family and friends will enjoy. It's great for breakfast, brunch, an afternoon snack with coffee or tea and as a dessert. This is definitely my kind of recipe. . . for any time of day or evening — even a midnight snack. The only problem with this recipe is that it does taste better the next day . . . but it never stays around that long.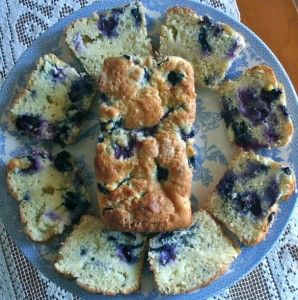 BLUEBERRY CREAM CHEESE BREAD
Recipe Yield:  1 large loaf or 4 mini loafs
FOR THE BREAD:
1 stick of softened butter

 

3/4 cup sugar

1/4 teaspoon salt

1 teaspoon vanilla extract

2 whole eggs

1 1/2 cup all-purpose flour

2 teaspoons baking powder

1/3 cup milk

2 cups blueberries
FOR THE FILLING:
8 ounces softened cream cheese

1/2 cup sugar

1 tablespoon flour

1 whole egg
Directions:
Preheat oven to 350 degrees Fahrenheit. Grease and flour one large loaf pan or four mini loaf pans. Set aside.
Let's begin with making the filling:
In the bowl of a stand mixer, cream softened cream cheese, 1/2 cup sugar, 1 tablespoon flour, and whole egg. Set filling aside.
Now for the bread:
In another bowl cream together butter and sugar until light and fluffy (about 3-4 minutes). Add salt and vanilla extract. Add eggs, one at a time, beating well after each addition.
In yet another bowl, whisk together flour and baking powder.
Fold in half of the dry ingredients into butter-sugar mixture, then add milk, then the remainder of dry ingredients. Toss blueberries in a tablespoon of flour and fold into batter. Your batter will be thick.
Spread half of batter into the bottom of prepared loaf pan(s).
Spread cream cheese filling on top.
Spread the remainder of the batter over cream cheese.
Bake in preheated oven for 30-35 minutes (for mini loaf pans) or 50-55 minutes (for large loaf pan).
Allow to cool in pan for at least 20 minutes before removing.
Serve and enjoy!
Wrap leftover bread in plastic wrap and store in refrigerator.
The recipe is a bit involved, but well worth the effort. I do enjoy the mini loafs. They're great to give as gifts. You may want to make a large blueberry cream cheese loaf to serve and another batch of mini loafs to give to family and friends.
This is a great all occasion recipe.