This time of year is a bit strange for most of us. It's the early closing out of summer and the hopeful welcoming of fall. This Labor Day is the point many claim is the end of summer and the beginning of fall, but the calendar and depending where you live, the weather may have something to tell you about what season we're in.
I believe it may have much to do with what season you have in your heart. It seems every season has something valuable to offer. I absolutely love fall, but I appreciate the bbqs of summer and spring. I'm always eager to spend some time outdoors with family and friends — during that in between time of the hot summer day and before the mosquitoes come out in the evening.
Our nights have been cool to cold and this Caramel Apple Cider Recipe seems to hit the spot. Some of my friends have been suffering from summer colds and this seemed to be the right pick-me-up for my guests. It is non-alcoholic, but I'm sure, for those of you who would like to add something, that is always an option.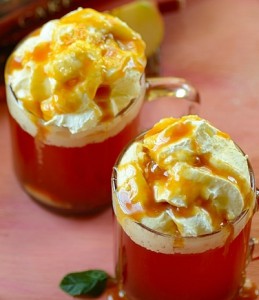 Image Compliments of http://www.frombraziltoyou.org
This recipe makes four servings
Ingredients:
6 cups bottled apple juice
2 teaspoons apple pie spice (You can make your own by mixing together: 4 teaspoons of ground cinnamon, 2 teaspoons of ground nutmeg and 1 teaspoon of ground allspice. Store in a small sealed jar.)
4 cinnamon sticks
About 4 to 8 tablespoons of sugar to taste
Whipped cream — I like the kind I can spritz from the can
Caramel sauce for drizzling — I use the caramel sauce you can buy for drizzling over ice cream. It comes in a plastic squeeze bottle.
Directions:
In a medium to large saucepan, combine apple juice, apple pie spice and cinnamon sticks. Cook over medium heat for about 20 minutes. Remove cinnamon sticks and stir in sugar. Pour apple cider in 2 cups, top with whipped cream, drizzle with caramel sauce. Serve immediately.
Your guests will be delighted with this dessert drink.