Your Christmas Tree is the focal point of your Christmas decorating. Here's an image that gives you some basic pointers: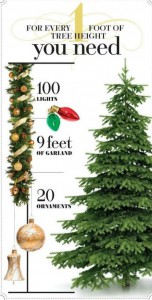 For every foot of tree height, you need 100 lights, 9 feet of garland and 20 ornaments. I have a friend with a 7 foot Christmas tree. So that means 700 lights, 63 feet of garland and 140 ornaments.
I suppose that does work out as a rule of thumb. But you can add more or less of each to your taste. Maybe garland isn't your thing, so you add more ornaments. 
It's always fun to see how friends and family decorate their Christmas trees. Some people have more than one, depending upon the size of their house. When I had a two story house, I had a tree downstairs in the living room and one upstairs in the sitting room as my mother called it and I called it my loft. It was also interesting how I decorated them. The one in the living room was more traditional with some vintage ornaments from over the years. The one upstairs was a bit whimsical with all kinds of ornaments I picked up over the years with a particular flavor from pop culture. As I reflect on that and now have just one tree, a 4 to 5 foot tree, I go traditional and a bit whimsical and nostalgic. I go with what inspires me at the moment, not what would be a decorator's suggestion.
I'm into pleasing me, not anyone else. From what I've seen, many have settled into that same mode while others are into impressing others. It's all what one wants and feels they need to do. I enjoy hearing what every ornament means to a particular individual. It makes it much more personal and interesting than saying "My tree was designed by fancy pants decorator from fancy pants hoity toity location." Basically, they had nothing to do with it and didn't have time to bother with it. That's not the message they were going for, but it was my take on it. Now, there were many who shared their vision and may have been saying to themselves, "I wish I could afford to do that."
I was listening to a TED Talk the other day that focused on "why." Well, that's my take on it, it's what I got out of it and started thinking about. Someone else may listen to it and get an entirely different message . . . but I digress . . .
"Why" gets into your feelings and core beliefs. In attaching it to tree decorating at Christmas I'm into the family traditions and the "me" element, reflecting my life. Anyone who knows me, can see in every ornament why I chose it . . . and they can relate to it, too. As I said earlier, I'm into pleasing myself. I'm living with this tree for several weeks and I want to walk past it or sit enjoying it with a smile on my face and with gladness in my heart. I can reflect on my life and those who had the most influence on me. I see it and feel it.
I also hope it reflects within TwoCansOnAString.com. I hadn't really thought about it until now. I know when I first started the blog, it included a little bit of everything — which has now spun off into other niche websites. Although I like the other websites, this one is the one I love the most. It may have been my personal experiment into internet marketing . . . just trying it out . . . getting my feet wet. It's not what my "marketing" friends would call a niche. I tried that after I moved the website to other hosting and lost my content, but it didn't feel right . . . it didn't ring true . . . it didn't feel like "home."  My "marketing" acquaintances may not "get it", but my friends and family do . . . and new visitors who come and feel it. . . return to this eclectic blend that could only be called "Two Cans On A String."