This is an opportunity to get into crafts.
Rainy days seem to be creative days for me.
An opportunity to write or make something.
I am completely captivated by this. It works for all seasons and holidays. You just need the basic structure and then allow your imagination to run wild.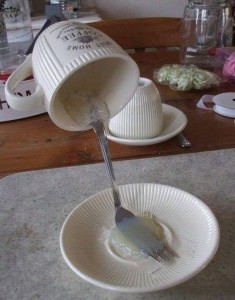 You may be inspired to have a little cabin figurine included with your flower display. Or something else may come to mind.
With the bare bones of this craft idea, you can make dozens of original pieces you will be proud to display in your home or to give as gifts.
You may even want to use something else to suspend in the air and cascade onto your plate or saucer.
It's nice to look at finished products, but I find it more enjoyable to see the basic structure and then decide how I can make something that is meaningful to me . . . or to someone I may make it for . . . we all have our favorite things . . . or things we associate with others.
It make a wonderful centerpiece for your dining table. If you need a little nudge in any particular direction, I would make one for each of the four seasons or each of the major holidays you celebrate.
Also gather ideas from family and friends. It is amazing what a little brain storming session may bring out. Be sure to keep a list of those suggestions . . . no matter how far out they may seem . . . it could inspire you to create something awesome. And get the children involved. You can glue all kinds of stuff together.
What do you imagine spilling out of your cup or goblet or mason jar . . . ?
There is no right or wrong way of adding embellishments to your basic structure . . . just cover up the fork . . . you do want to retain some of the mystery.
Since I'm into paper crafts, I was thinking of making the cup out of paper . . . to make it lighter, chip board works and core board works, too. You can also incorporate this into a mini-album that could be displayed right along with this . . . with pictures of your family and friends on vacation or involved in some celebration.
It could be completely imaginative . . . that would be a good thing, too. You could be inspired by a favorite movie or book . . . or a place you once visited . . . or a picture you saw . . . the possibilities are absolutely endless.
It may be fun to go to a favorite thrift store . . . or craft store and see what inspires you . . .
And, if you get your children involved, it would be fun to video it or take pictures during the construction . . . this may add to the completed project.
Remember, this is only the bare bones concept . . .  you can use whatever you want . . . a box, a hat, a shoe . . . you can begin with something other than a cup . . . it can have whatever theme you want it to have . . . for any season or "just because."
Here are some links you may find helpful:
I may revisit this from time to time . . . just to think and imagine . . .
Like I said earlier, write down all your ideas . . . then take a picture of your finished project or while it is in progress. Even if it didn't come out as well as anticipated . . . you can always change it . . .
The important thing is to have fun . . . and share that fun with family and friends.
Until next time,
Sharon