I'm sitting on my patio, drinking a hot cup of coffee.
It could be considered gloomy, but I'm feeling good. We need the rain and I was enjoying hearing it. I do find it relaxing.
I am a bit cold, so I'll move inside.
It's interesting how a previous post can fill one's mind . . . especially a craft idea. I'm thinking of using elements from something I shared on my website OldHauntedStuff.com
It is spring and I'm thinking Halloween. I guess with crafts, it's never too early to get started. I do subscribe to a scrapbooker who is always waiting for pictures from her kids to add to the scrapbooks she's making for her grandchildren. It is all a labor of love . . . and the pictures she receives, she makes the layout . . . no matter the season.
It's refreshing to know how most crafters and scrapbookers are always behind . . . or ahead, depending upon one's perspective. I know there are many who are planning their Christmas in July videos . . . that's when I'm into my Halloween stuff. Well, this year I'm getting to it earlier . . . along with Christmas.
I guess it doesn't really matter the season, the important thing is that we're doing something worthwhile for upcoming holidays.
I would like to be current with my crafts and the season, but I do plan ahead and by the time the actual event occurs, I'm pretty much over it and moving forward to the next.
Disney always come to the rescue when it comes to making an idea a reality . . .
Spring is a time of new growth . . . all kinds of flowers and perhaps a fairy or two . . .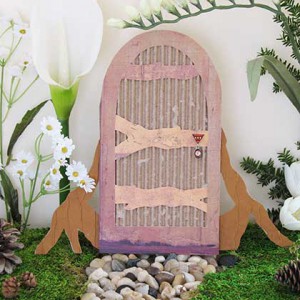 Something to capture the imagination . . . and to take you into another world of peace and tranquility. We do need as much of that as possible. And exercising the imagination is always fun, too.
This would be great for a card or to set up on a shelf . . . it is a freestanding door . . . inviting you to peek around it . . . or open it . . . Just click the image to be taken to the free template.
You can make a wonderful diorama . . . with plenty of flowers . . . even attach the door to a box and build your fairyland inside it . . . there are many uses . . . and hours of fun for you as a crafter and for your children . . . share the fun.
I know many crafters do work with their children or grandchildren. There is a spark that children have in bringing the best out of adults. This allows you to play, imagine and explore . . .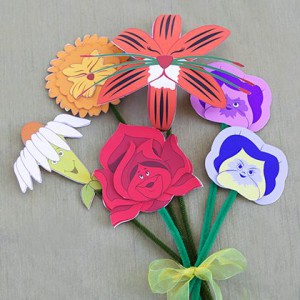 You'll probably want flowers, too. And the most unusual, the better. This may spark an idea or two of your own once you print out these and assemble them . . . you'll have plenty of unique flowers to add to your special fairyland . . . 
These were inspired by Alice In Wonderland, but you can adapt them however you want. Just click the image to be taken to the free printable.
It's always delightful to have some friendly flowers . . . these would make a beautiful bouquet to make and share. You can always add pictures of your family in these flowers . . . that would make them very special, indeed.
And, you'll need fairies, too . . . I wonder . . .
Well, with Disney, you don't have to wonder very long. They do have exactly what is necessary to create something special and memorable.
Remember to click on the image to be taken to the free template you can print and cut out. This is truly a wonderful template where you mix and match pieces to create your own unique fairies . . . and you can add your own special touches to make each one unique . . . and just right for your creation. They do bring happiness.
And, as with the flowers you can make your friends and family into fairies for your special wonderland/fairyland.
Yes, spring is that time of wonder . . . of joy and delight . . . a time to get out in nature and enjoy yourself with family and friends. And use these free printables and templates. You will definitely have a wonderful time.
I'll leave you with one more link. Something you may find fun to put on your next batch of cupcakes. It's appropriate for spring . . . with some of your Disney pals.
I hope this post was helpful and inspiring.
Until next time,
Sharon