I awoke this morning thinking about "copycat recipes."  Is the recipe we're trying to copy all that great or is it because of the "fame" of the place who serves it? And where do these "brand" coffee houses and restaurants get their recipes? Do they hire chefs and do a major taste test or is this an in-house thing where it's an old family recipe of the CEO or workers?
Then we have homemakers who come up with knockoff recipes of these "brand" ones. They're all over YouTube and individual websites as well as books. It makes me wonder how accurate are they? Are they just trading on the "brand" to ride on their coattails?
With all this thinking, it got me hungry for coffee cake. I suppose I could claim it to be a copycat recipe of some famous place, but I don't want to ride the coattails of the "famous." This recipe is either good on its own merits or it isn't. You know, not everyone likes the coffee cake from the famous place. The best thing we having going is that we've made it fresh and serve it fresh. It hasn't been brought in from someplace else and cut up, waiting in a glass case. And with fresh baked goodies from your very own kitchen, you can add or delete ingredients to make them uniquely your own. 
Well, enough about that and on with a tasty coffee cake recipe. Oh, but one more thought: what distinguishes a coffee cake from an ordinary cake? I believe it's the topping and this recipe is heavy on the topping.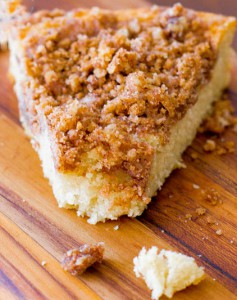 Ingredients:
2 cups all purpose flour plus 1 tablespoon to coat the pan

1 cup plus 2 tablespoons granulated sugar

1 teaspoon salt

1 1/4 sticks unsalted butter

1 teaspoon baking powder

1/2 teaspoon baking soda

3/4 cup buttermilk

1 large egg

2 teaspoons vanilla extract

2/3 cup packed brown sugar

2 teaspoons ground cinnamon
Directions:
Preheat oven to 350°F.  Spray a 9-inch spring-form pan with cooking spray or grease with butter. Sprinkle the bottom of the pan with a tablespoon of flour, coat the pan thoroughly and tap out the excess.

Put the flour, sugar and salt into a large mixing bowl and whisk until combined. Cut in the butter (I cut the butter into very small pieces). Using a pastry blender or a fork, smoosh it up until the mixture resembles coarse crumbs. Set aside one cup of this mixture for the topping.

Mix in the baking powder and baking soda into the remaining flour mixture. Add the buttermilk, egg and vanilla. You can use an electric mixer for this or continue working by hand. This batter is going to be very thick, so I'd opt for the mixer. You want this mixture to resemble frosting — smooth and fluffy. Then you're ready to spoon the batter into the prepared spring-form pan. Then you'll smooth the top.

Remember that cup of topping you saved? Well, get it out and put it in a bowl. You're going to add the brown sugar and cinnamon to it. Toss it with a fork until it's well blended. Sprinkle the crumbs over the batter, pressing lightly so it will stick in place.

Bake for about 50 to 60 minutes. Be sure to check it with a toothpick.

Allow to cook for 10 minutes or so, then remove the sides of the spring-form pan. Then allow the cake to cool completely before serving. This could take a couple of hours.
Many people make it ahead of time with the belief that cake tastes better the next day. I don't know if this is true or not, all I know is that bakeries don't advertise 1 or 2 day old cakes. I prefer to make it early in the morning. That's an excellent way to wake up your family on a Saturday or Sunday morning.
You can always add nuts, but I prefer coffee cake without them.