Look what we have here! This is a definite taste sensation! My only question is How do you eat it? From the marshmallow head, skeleton body to the brownie base, I'm thinking some dismantling may be in order to get a really good bite out of this. Or, you may want to eat it piece by piece from the bottom to the top. It would be interesting to present these at a party and watch how others go at it and devour it. I know some who will save the brownie for last and others will eat it first, then try to trade you their skeleton for your brownie.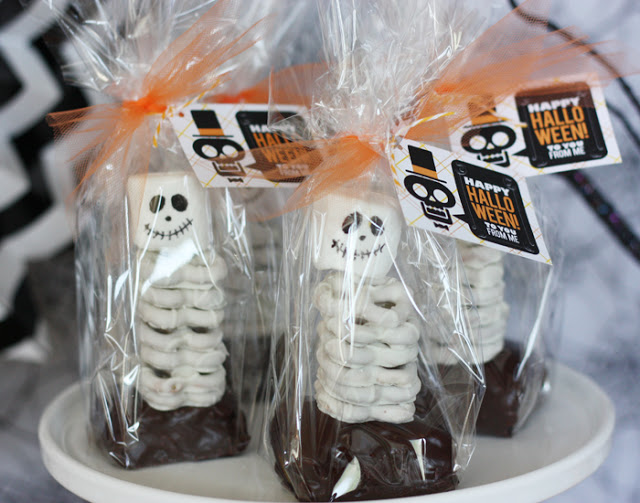 This image is compliments of http://www.wantsandwishesdesign.com
As mentioned above, this happy skeleton is sitting on a brownie. He's made from mini pretzels dipped in white chocolate with a marshmallow head decorated with black frosting gel.
I don't think you really need a recipe, but I'll do my best to satisfy your sweet tooth — and you know this is going to be sweet. It will also satisfy those who love, love, love chocolate.
Here's a Brownie Recipe inspired from http://www.allrecipes.com that isn't too thick nor too thin which I think would be perfect for this project. You can frost them or not.
Ingredients for making 16 Brownies
1/2 cup butter
1 cup white sugar
2 eggs
1 teaspoon vanilla extract
1/3 cup unsweetened cocoa powder
1/2 cup all-purpose flour
1/4 teaspoon salt
1/4 teaspoon baking powder
Frosting:
3 tablespoons softened butter
3 tablespoons unsweetened cocoa powder
1 tablespoon honey
1 teaspoon vanilla extract
1 cup confectioners' sugar
Directions:
Preheat oven to 350 degrees F (175 degrees C).
Grease and flour an 8-inch square pan.
 In a large saucepan, melt 1/2 cup butter.
Remove from heat, and stir in sugar, eggs, and 1 teaspoon vanilla.
Beat in 1/3 cup cocoa, 1/2 cup flour, salt, and baking powder.
Spread batter into prepared pan.
 Bake in preheated oven for 25 to 30 minutes. Do not overcook.
To Make Frosting:
Combine 3 tablespoons softened butter, 3 tablespoons cocoa, honey, 1 teaspoon vanilla extract, and 1 cup confectioners' sugar.
Stir until smooth.
Frost brownies while they are still warm.
Now we have the base for the skeleton.
For the skeleton you'll need:
A bag or two of White Chocolate Melts
A bag of Mini Pretzels
A bag of Marshmallows
A tube of Black Frosting Gel
Directions are basically an assembly line process:
Melt the white chocolate melts in the microwave (I don't melt the whole bag at once. I prefer to use what I make and then melt a fresh batch.)
Dip a mini pretzel into the melted white chocolate, place on wax paper
Dip another mini pretzel and place it on top of the previously dipped pretzel
Do this until you have a stack of 6 pretzels — you can have more or less, depending how you want your skeleton to look.
You may want to add the marshmallow "head" — dip it in the white chocolate just to get the bottom to stick to the top pretzel
You can either decorate the marshmallow faces before or after  you set them on your stack of white chocolate pretzels
Repeat this process until you have 16 skeletons to put on top of your brownie squares
You can either stick the skeletons on your brownie squares with white chocolate or the brownie frosting.
There you have your Delicious Skeleton On A Brownie Halloween Treats.
You can put these in sandwich size zip lock bags or on a plate, however you prefer to serve them. If you bag them, you'll need to print out something clever to staple to the bag, but I'm sure you'll think of something or we'll have something here you can use. To tell you the truth, I think homemade labels give more of a personal touch than something printed out, but I'll see what I can find suitable for this project.
Here's a Free Printable compliments of http://www.sherbetblossom.com
Or you may like a variety of labels for your various Halloween projects compliments of http://www.mygrafico.com/freebies/free-printable-halloween-party-kit/prod_5511.html