Emoji's are extremely popular . . . so why not use them to decorate your Easter Eggs
Yes, it seems easy enough.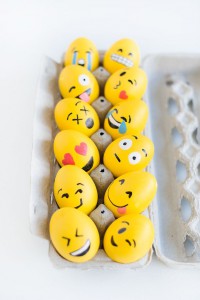 Just die your eggs yellow and with an appropriate marker draw the emoji of your choice.
This would definitely be a fun family project.
I'm sure you could find some appropriate stickers you could use as well. That's why it's a good idea to think ahead for your various do it yourself projects.
All of us have our favorite emoji . . . I can see them on Christmas ornaments, too. There's another project to think about ahead of time. This could also work when cutting our your Halloween pumpkin . . .
You may also find some stencils that might work. At least for those of you who don't feel all that artistic. I'm sure you'll do quite fine on your own . . . just get into it and see what develops.
Get into that childhood mode of being creative and doing your best. Have fun and enjoy yourself.
Sharon