I love making gift boxes almost as much as I love filling them with goodies.
You just need the free template and some colored card stock paper to print out a variety of houses you can put together with glue or double-sided tape. Or have them all the same color. You may want to add some other greetings on your houses or some stickers. You could really get creative with these little House Gift Boxes. They remind me of small milk cartons.
I may want to experiment with the door and have it open for all the goodies to spill out . . . depending upon what you've put inside. The template is designed for opening at the top for delicious baked goodies. These are great for co-workers and neighbors, postal carrier and whoever else you would like to give a little gift.
They're handy for kids to exchange small tokens with friends. I can imagine them being extremely popular. You may want to begin with a dozen. Soon, you'll have a whole gift box explosion . . . people will want them to give for gifts, too. You could be in business making and selling these boxes.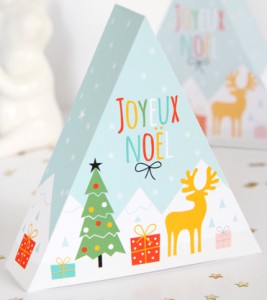 For a change of pace, here's a wonderful triangular gift box
You just print it out on white card stock and put it together with glue and you have a great gift box that is already decorated for the winter holiday season. You can put so very many things inside to the delight of everyone on your gift list.
Thanks for stopping by!  Enjoy your free gift boxes!