Who doesn't love a ghost, bat or vampire wrapped around a candy bar?  The Free Templates allow you to make these Halloween favorites for your Halloween trick-or-treaters, school parties, family, neighbors and friends, at work or for complete strangers as the mood strikes you. Spread the gift of giving throughout this Halloween Season. These are easy enough for kids to cut out and write something inside. You can embellish these Halloween icons however you choose to make them extra special.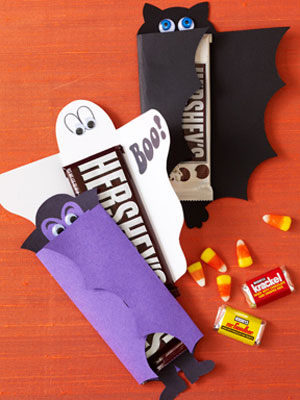 The image and Free Templates are compliments of http://www.womansday.com
Here are the Free Template Links:
Bat Chocolate Bar Cover Template
Dracula Chocolate Bar Cover Template
Ghost Chocolate Bar Cover Template
You can use these as a template and trace onto colored paper or you can print them out onto the paper. If using as a template I suggest using a heavy cardstock. You may also need some googlie eyes, colored marking pens, carbon paper and whatever other embellishments you want.
This is a fun project to do with the kids. It's an assembly line process of tracing, cutting, decorating writing a message inside and wrapping around a candy bar. I closed mine with a small piece of tape, but you can wrap each one up with a ribbon or whatever clever idea you have.