Everyone's scurrying around trying to duplicate the butterbeer they enjoyed at Harry Potter theme park at Universal.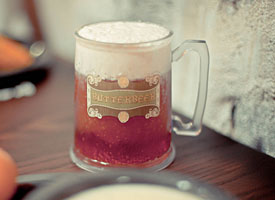 There are plenty of recipes. Some argue the original in the J. K. Rowling books was a warm drink others are equally adamant it must be served cold like a slushy.
I'm of an entirely different mindset. You can either make butterbeer the easy way or the hard way. Yes, you may know which way I'm thinking. Easy all the way. If you want something cold and satisfying I have a delicious recipe for you. If you want to put more effort into it, then I have the recipe for that, too.
For the purist, I'll give you what you want Harry Potter Hot Butterbeer Recipe
Harry Potter Hot Butterbeer Recipe
INGREDIENTS
1 cup light or dark brown sugar
2 tablespoons water
6 tablespoons softened butter
1/2 teaspoon salt, you can skip this if your butter has salt
1/2 teaspoon apple cider vinegar
3/4 cup heavy cream, divide into 1/4 cup and 1/2 cup
1/2 teaspoon rum extract
4 12 ounce bottles cream soda
DIRECTIONS
In a small saucepan over medium heat, combine the brown sugar and water. Bring to a gentle boil and cook, stirring often, until the mixture reads 240 degrees F on a candy thermometer.
Stir in the butter, salt, vinegar and 1/4 cup of the heavy cream. Set aside to cool to room temperature.
Once the mixture has cooled, stir in the rum extract.
In a medium bowl, combine 2 tablespoons of the brown sugar mixture and the remaining 1/2 cup of heavy cream. Use an electric mixer to beat until it thickens, but not completely whipped, this should take about 2 to 3 minutes.
To serve, divide the brown sugar mixture between 4 tall glasses (about 1/4 cup for each glass). Add 1/4 cup of cream soda to each glass, then stir to combine. Fill each glass almost to the top with additional cream soda, then spoon the whipped topping over each glass.
Just reading the recipe no doubt created a bead of sweat over your brow. Don't give it another thought. I present to you:
Harry Potter Cold and Easy Butterbeer Recipe
Ingredients make 4 16 oz. servings:
1 quart butter brickle ice cream. If you can't find it vanilla ice cream will do nicely.
1/4 cup butterscotch syrup
32 oz of your favorite cream soda
Directions:
1. Put 4 (16-ounce) glasses in your freezer to chill for at least 20 minutes
2. Mix ice cream and cream soda in your blender until combined
3. Divide between the frosted glasses
4. Top each glass with whipped cream, I use the whipped cream from the pressurized can. But this is a optional item.
5. Serve with spoons and straws
Didn't I tell you this was cold and easy!
Now that you have a choice of recipes for butterbeer, enjoy and delight your family and friends! You may also like to get Butterbeer Mugs:
Direct from universal studios Florida
heavy plastic
measures 4 1/2″ high X 4″ wide plus handle
bottom stamped..universal harry potter butterbeer
Some have complained it's too small and too light weight, but if you want a mug with Butterbeer printed across the front, this is what is available. I can understand Universal Studios Florida not wanting to have glass mugs for this specialty drink and souvenir. I think they're great and why I'm sharing it with you.
Thanks for stopping by!