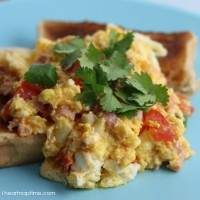 This Hearty Egg Breakfast Recipe could also work for Brunch or even Dinner
Initially I thought this was going to be an easy recipe, just throw everything in one pan and you're good to go . . . but there's a lot of chopping and shredding and you're going to dirty up two bowls for the 4 eggs you separate — one for the whites and the other for the yolks.
I'll quit complaining and get on with the recipe.
But, before I do, I'd like to say that this recipe is only a suggestion. You can add to it or delete from it. This is merely a suggestion.
Here we go with the ingredients:
I already mentioned separating 4 eggs — whites in one bowl and yolks in another

1/2 cup of cheese — it could be sharp cheddar or it could be a cheese of your choice

1/2 cup of chopped tomatoes

1/2 cup of meat — this could be interesting — bacon, ham, sausage, pepperoni, steak, roast beef — whatever you want to put into this delicious egg dish

1/4 cup chopped green onions or you could go with a regular white onion or a red onion or is it purple . . .

Now, you can garnish with parsley or with chives or with mushrooms, green bell pepper slices — do what sounds good to you

Toast
Now for the directions:
I'm sure you've already separated your 4 eggs and sliced and diced the other ingredients — if not, get to work!

You're going to start out by cooking only the egg whites for 2 to 3 minutes on a low to medium heat

Add the cheese, tomatoes, onions, meat and whatever you decided to chop up

Continue cooking for another minute or two

Add in the egg yolks and mix everything together evenly

Continue cooking for 3 to 4 minutes

Serve on toast, garnish with parsley or salsa or green bell peppers or avocado or whatever your heart desires — did I hear bacon bits? 
I know I added more ingredients at the end, but you get the idea — this is your egg breakfast so make your family proud!