Heather has come through with some interesting crafts.
In a previous post, I showed you Heather's Simulated Window and Lantern. She had promised her Easter Eggs and here they are.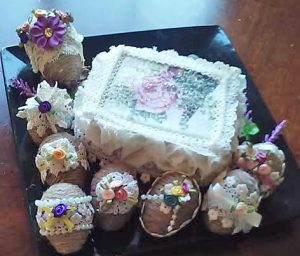 I'll allow the pictures to speak for themselves.
You can get some plastic eggs and let your imagination soar.
You can go shabby chic or bling them up however you like. Just gather up a variety of odds and ends and have at it. Add flowers and lace . . . get images and decoupage them.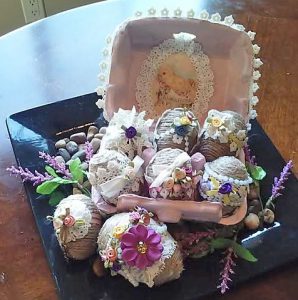 It is possible to create lovely eggs to give as gifts or decorate around your house. A few of these would definitely brighten up different areas of your home.
Isn't it clever of Heather to use the egg carton, trim it with lace and decoupage a lovely picture on both the inside and outside of the lid and add a lovely lace ruffle around the image (both inside and out).
I would personally find it difficult to put these away after Easter. I think they would look lovely throughout the spring and into the summer.
And, Heather did a wonderful job with a lantern in which to display the eggs.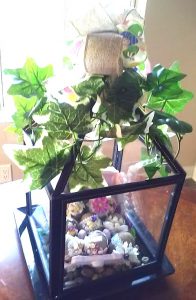 I'm inspired to get to work. How about you?
As you can see, the eggs appear to be wrapped initially in twine and from there Heather went to work with pearls, flowers, lace, ribbon and whatever bits and pieces she found to make each and every one of her Easter eggs into a breathless work of art.
You can do the same . . . and for the lantern . . . get some picture frames together and create to your hearts content to create the right shape you desire. Then add the greenery and some burlap lace and you have a lovely display case for your treasured crafts.
With a little bit of inspiration . . . you'll be amazed by what you can make.
My personal thanks to Heather for sharing her Easter craft projects with us.
Thank you for stopping by!
Sharon