I'm thinking about Back-to-School and Halloween and all the days in between to see what would be interesting to put here that would put a bit of a zing in your daily life and also in any parties that you give. I saw these laboratory shot glasses with mix pipettes and immediately thought about my chemistry classes in college. It wasn't the most exciting flashback of my life, but it was there. I remember my professor drinking from a beaker his morning coffee or afternoon soda. It both intrigued and disgusted me. It may be interesting for a Halloween party or even for Labor Day or anytime you get together with your friends and family. I do believe they are quite clever.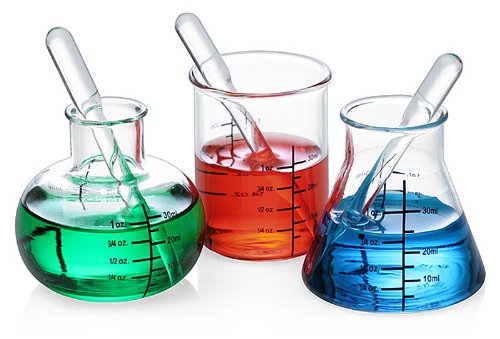 These interesting Laboratory Glasses are made from glass, dishwasher safe and have mixing pipettes. The mixing pipettes were what got my attention. It's a nice touch I thought. They looked interesting to me and I thought they'd be a lot of fun to have around the house. They would also make an interesting conversation piece.
It is a set of four: 2 measuring cups, 1 Erlenmeyer flask, 1 boiling flask and they all come with a mixing pipette.
They may make great gifts for cooks, bartenders, people into science and those who like interesting glassware.
Here's the link to the shot glasses — they're not very colorful, but you can change that with whatever concoction you decide to put into them:

Thanks for stopping by!