I know Valentine's Day is tomorrow!!!
Some of us do wait until the last minute.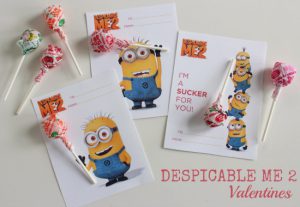 These are so easy, the kids can do them! You just need to click the picture, print out the PDF of four different Minion Valentine Day cards on card stock, tape a sucker on them, fill out the To and From lines and you're in business. Put them all in a bag for the kids to take to school and no one will know you waited until the last minute to complete these Valentines for a school or church party.
I think these work for all ages. Not a lot of mushy sentiments attached to them.
There are many suckers you can find in your local market — some may even be on sale . . . but even not, you can have your children give a Valentine's Day card with something special attached to it.
With a bit of creativity on your part, you can change the sentiment and even remove the To and From lines and use the images as birthday party favors or for other occasions. This is one of those designs that work for many celebrations.
I hope you'll use these cards. I like them!!
Thanks for stopping by!
Sharon