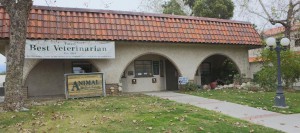 Lil' Diva had a busy day at the vet's office. It was absolutely amazing how the staff and technicians absolutely went gaga over her. They remembered my precious Abby and seemed very pleased that I now have Diva to love.
Diva had a thorough examination and it was discovered she needed to have several baby teeth extracted to make room for her grown-up teeth. She had her teeth cleaned and basically had a clean bill of health.
To tell you the truth, when I picked her up after her dental work she looked like I had on occasion after seeing the dentist. I'm sure many of you can relate.
Diva's getting plenty of pampering. I've softened her food and we started out with me hand feeding her. This process seemed too slow for her, so she ate on her own. It's good to have her home.
Oh! I forgot the best part! They took Diva's picture:
Originally we had an appointment for 3 in the afternoon, but after Heather spoke with Dr. McAnally, the appointment was rescheduled for "now." So, we jumped in the car without finishing Diva's grooming process. No matter the extent of Diva's grooming, I think she's beautiful.
Thanks for stopping by!