I love making mummies and filling them with all kinds of good stuff. Meatballs seems to be a major winner right now for my family.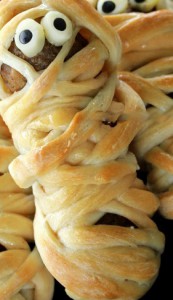 It's finger food at it's absolute best.
Here's what you'll need to do:
You can either make your own meatballs or find some already prepared. Your meatballs need to be cooked. You then wrap them up with pizza dough or your could use another bread-type dough from the wide selection of Pillsbury brand.
I roll my meatballs in some spaghetti sauce to stick them together on a flat piece of bread dough. I then cut some strips out of the remaining bread dough (about 1/4 inch wide) and wrap up this little mummy. I leave some room for edible eyes.
I guess I forgot to tell you to preheat your oven to 350 degrees and to put your wrapped up mummies on a cookie sheet. You can either spray it with nonstick cooking spray or cover it with aluminium foil or get fancy with parchment. Whatever works for you.
Then I pop them in the oven for about 20 plus minutes until brown.
Serve them warm out of the oven. Add a salad or just have them as a snack. You may have more warmed spaghetti sauce available for dipping. Be sure to make plenty. They're a real crowd pleaser.