Free Printables!
Everything does go better with Mickey and Minnie.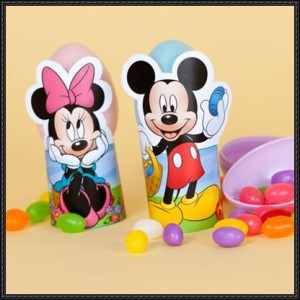 It doesn't matter how old you get, these two seem to make any holiday celebration better. I guess there are some things we never outgrow.
I was hoping this would be more than an Easter Egg stand, but hey, they are cute and they add to the festivities. You can always adapt them by wrapping them around cups or juice boxes . . . maybe as a band around a box of goodies . . . there is truly no limit to the possibilities you can imagine.
Just click the image and you'll be taken to the page where you can print out Mickey and Minnie. They do seem happy about Easter . . . I do wonder what Minnie is thinking . . . maybe what a beautiful for an Easter Egg Hunt or to just sit and enjoy the nice spring weather.
We do have much to think about this Easter . . . counting our blessings and sharing the day with family and friends.
I hope you enjoy these little egg stands . . . and have found other uses for them as well.
Until next time,
Sharon