We all love Mickey and Minnie Mouse and when I can find free templates for making different kinds of boxes, I'm right there to share them with you, too.
Here's a nice gift box with a gift tag. One in pink for Minnie and one in blue for Mickey.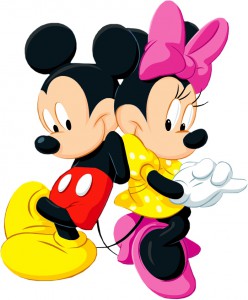 Minnie is now going to steal the show with a box shaped like a purse, a dress and a high heel shoe.
Here's a Minnie Mouse Pop Corn Box and a Mickey Mouse Pop Corn Box — remember to print out 2 of each to make one box.
Yes, it is exciting to get free printables you can print out and make for a child's birthday party or for fun hostess gifts throughout the year.
I love making boxes and saving the templates for future use. Being a crafter I like to see how things are made and designed and then once I understand the basic construction, I can create something entirely new from the samples I've collected. You can do the same. I'm sure you're way ahead of me with that idea.
I'm not sure where I heard this, but I remember watching a "how to video" and the woman said that once you learn the mechanics of box making, you can make any shape or size box you can imagine. This is a remarkable concept and I believe it is wonderful advice.
I have seen crafters make all kinds of 3D items that can be filled with treats or small toys. I believe everything is possible when you stop to think about it and begin experimenting with scraps of paper. Before long, you'll have some interesting original pieces you can share online and with family and friends.
So much is truly possible . . . you just have to believe.
Until next time,
Sharon