National Donut Day is the first Friday in June. Be sure to mark your calendars!
My goodness! We do have undeclared holiday celebrations.
I'm late in telling you about it and celebrating it . . . but I'm going to share a donut that you'll enjoy taking a bite out of . . . unless it takes a bite out of you first.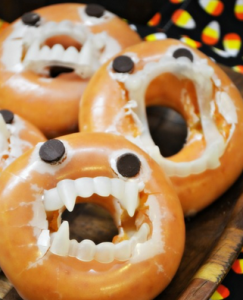 You could have a good time with bought donuts . . . or you can make your own . . . 
As you can see . . . just add some fangs and some eyes and you're in business . . . unless you want to get some red frosting to goo it up a bit.
I got you covered with the accessories:
Once you get your imagination to work, I'm sure you can come up with some other items to add to your donuts. They'd be great for a Halloween party . . . or . . . is there a National Vampire Day?
Thanks for stopping by!