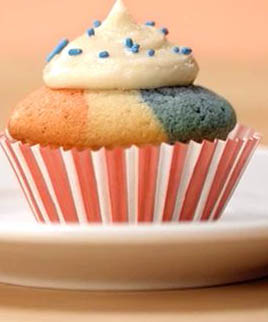 This is truly a yummy idea for Memorial Day! It's an excellent way to celebrate and honor all the brave soldiers who fought for our freedom. It's also an excellent idea to use for Flag Day (June 14), the 4th of July, Veterans Day and all the wonderful American holidays that come around throughout the year. 
I do have a recipe for you, but this is more of a technique. I enjoy anything that makes my baking projects easier. I think you'll enjoy this.
First, the picture. You can learn so much more from a picture than the yackity-yacking of a description.
You see!! What did I tell you!! Now you can see why I'm so excited about this patriotic cupcake and why I call it more of a technique than a recipe. I know you're way ahead of me in making other color combinations for other holidays and celebrations.
It's now time for me to get this recipe going with ingredients and directions.
Ingredients:
Boxed White Cake Mix or you could make it from scratch

Red Food Coloring

Blue Food Coloring

3 Quart Size Ziplock Brand Bags

3 Twist Ties

Masking Tape

Vanilla Frosting

Red, White and Blue Sprinkles
Directions:
I'd begin by reading the box instructions. Preheat the oven as directed. Get out the muffin tins and line them with the cupcake liners. Now mix up the cupcake batter. If you made your own cake mix, you know whether to preheat the oven and already have the muffin tins lined with cupcake liners. And you're mixing up your batter.

Divide the cupcake batter evenly into three bowls. In the first bowl add 10 drops of red food coloring and stir until the color is thoroughly combined. In the second bowl add 10 drops of blue food coloring and mix until the blue color is thoroughly mixed in the batter. In the third bowl, you'll have your white batter.

Get out your three Ziplock Bags and place the batter in the first bowl in one Ziplock Bag. Then put the batter from the second bowl into a fresh Ziplock Bag. And the third Ziplock Bag is for the third bowl of batter. You now have three bags of batter.

Tie off each bag with a twist tie. You want them to look like triangular piping bags. This may get a bit confusing so read carefully: Gather the bags together in a straight horizontal row and position them so the bottom tips touch. (You probably already did this, but I would arrange them in order: Red, White and Blue.) Secure all three bags together at the bottom by wrapping masking tape around the bags, creating one large piping bag.

Here's a picture in case you got a bit confused:

 

You're going to now want to carefully cut the bottom tips out of the Ziplock Bags. You will want them to be as equal as possible so when you squeeze, you'll get even strips of red, white and blue. I guess I don't have to tell you, but I'd hold the bags up so the batter isn't in the tip I'm cutting off. Then I'd very carefully turn the bags over and squeeze gently in a cupcake liner. It may run out quite freely so be ready to lift up your batter bags. You don't want to overfill the liners. It is amazing when the batter flows out evenly to make your red, white and blue batter stripes.

After baking according to the box directions. Let them cool before adding the frosting and the sprinkles. Since you were so good with the piping bag technique for the batter, you may want another Ziplock Bag to use for the frosting.
This is a great recipe technique that may take some practice. I like using this technique when I'm making regular muffins and cupcakes. I don't have the drips and mess.
Have fun!
Thanks for stopping by!