I know there are many last-minute shoppers . . . but essentially if we want merchandise delivered by Christmas, it makes sense to have that completed.
This time of the year, the weather can sometimes be strange and we've had fires in California which affected delivery of on-line orders.
We do need to think ahead . . . and also be mindful of the safety of those delivering our merchandise.
I'm just as happy to receive my orders after Christmas — it spreads the holiday out a bit longer. Yet I know there are those who want what they want when they want it.
Now that we're pretty much settling into Christmas — this being the last few days, I thought a fun recipe would be good for me to share.
I was on Pinterest looking at other stuff and these recipes kept popping up . . .
It was difficult for me to decide on just one . . . then the Almond Joy Cookie Recipe with only 4 ingredients came up and I knew I had a winner!!
I'm all about quick and easy!!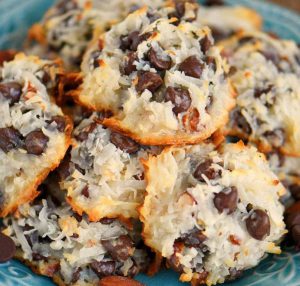 Let's get started with the Ingredients:
a 14 ounce bag of sweetened coconut flakes
2 cups of semi-sweet chocolate chips
2/3 cup chopped almonds
a 14 ounce can of sweetened condensed milk.
Now let's get these put together:
Preheat oven to 325° F.
Line a large baking sheet with parchment paper.
In a large bowl combine coconut, chocolate chips, chopped almonds and sweetened condensed milk.
Stir, stir and stir until it's all mixed nicely.
Scoop out the dough with a cookie scoop onto the parchment lined baking sheet.
You may want to wet the tips of your fingers with water so you can shape the cookie dough into discs.
You want the tops to be flat.
Once that is done you're ready to bake the cookies for 12 to 14 minutes until the tips of the coconut are just starting to turn a golden brown.
Let 'em cool on the baking sheet.
I know you're going to have to try at least one before storing them in an airtight container.
Well, there you have it!
I hope you'll try out this recipe. Add to it, change the ingredients and even rename it!
Sharon