Requires NO batteries. There are no strings to tangle. Just toss it high and let gravity take over . . . and maybe a little wind.
With spring coming, kids need to get outside and have something enjoy.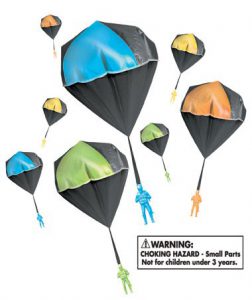 The Aeromax Toy Parachute:
Tangle Free
Glow in the dark troopers
Quality rip stop nylon material that will last
Colors may vary and are selected at random
Tested to meet USA safety standards for children's products
This would be great for Easter Baskets, stocking stuffers, birthday parties — each of your guests can take theirs home with them. It would be a great party favor.
The parachutes are selected at random — you get one per order . . . so, if you want a selection, perhaps you'll need to order a dozen or more . . . or they'll all be the same color — that's the breaks when things are just selected at random.
I don't personally find this a turn-off, but I can see how children may want a particular color and would be disappointed. That's why it would be worthwhile to order several of them. They are great fun for boys and girls ages 4 years and up. Great for parties where children and adults can be outside.
Here are some other suggestions you may enjoy:
This is just a little selection to give you some ideas. Click any of the images and you can shop around to your hearts content.
Thanks for stopping by!
Sharon