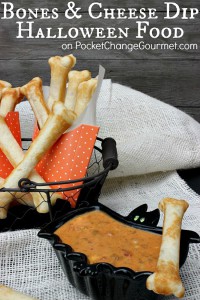 Kids have wild imaginations and during the summer you have to use yours, too. I know this works for Halloween, but it would work for summertime or after watching something about pirates or any mention of bones. I do like the Bat Bowl. And then you'll need bone molds to make these bread stick bones. They may become you family's favorite bread sticks.
Bone and Chili Cheese Dip Recipe
Ingredients:
Refrigerated bread sticks — you'll want to make lots of these. One bread stick makes 2 bone bread sticks.
1 lb. of your favorite cheese cut into cubes
1 can chili without beans
1 can diced tomatoes with green chiles
Directions:
Bread Sticks
Get a couple of these bone bread stick pans
Cut each bread stick in half and push the dough into the opening of the pan
Bake at 350°F for about 7 minutes or until lightly golden
Chili Cheese Dip
Combine all ingredients in a medium saucepan on the stove top or in a microwave safe bowl.
Heat until smooth, stirring occasionally and cheese is melted. May be about 5 minutes.
Put it in a nice serving bowl or little individual cups for each person to dip their bread sticks to their heart's content.
You can have more chili with less cheese to make it more of a meal than a dip. Well, then that does change the recipe concept considerably.
Here are some links for your shopping pleasure:
Thanks for stopping by!