The Wishmakers is a fast-paced adventure about wishes and consequences.
Ace is the Wishmaker and Ridge is the genie . . . from a peanut butter jar.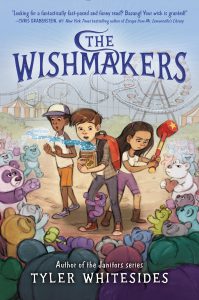 Just knowing that got me curious as would any kid from 8 to 12 years of age. This is a book that grabs one's attention and keeps it through to the very end.
If you're looking for a fun read for a child in your life, don't look any further . . . The Wishmakers by Tyler Whitesides and illustrated by Jessica Warrick is an excellent choice.
Some of these may be of interest as well — the whole idea is to get kids to read, right? And there are always reasons to give your kids books to read!!
There are some wonderful books to explore. Have fun!
Thanks for stopping by!
Sharon