I do love my Sizzix Big Shot Cutting/Embossing Machine with the Extended Multipurpose Platform.
What I especially like about this machine is that it is portable and it needs no electrical outlet, no batteries and not plugged into an electronic device.
It is completely portable with a hand crank. I can set it on a work surface to do my die cutting and embossing in my craft room, on the patio, in my dining room, anywhere I choose to work.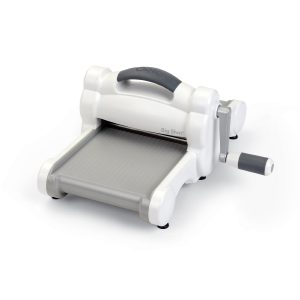 Portable shape-cutting and embossing roller-style machine.
Create your own greeting cards, invitations, gift bags, boxes, scrapbook pages, home decor items, etc.
Included with the Big Shot are a pair of Standard Cutting Pads and the adjustable Extended Multipurpose Platform
Measures 14-1/4″ x 12-3/8″ x 6-5/8″
I've had mine for 2 years and I have absolutely no complaints.
The extended platform comes in handy for larger dies and an assortment of smaller ones to get the die cutting done quickly, easily and efficiently.
This along with my Silhouette Cameo allows me to take my paper crafting to a new level.
Every craftroom should have a Sizzix Big Shot Cutting/Embossing Machine — the Extended Multipurpose Platform is a definite bonus!!
You may also like to purchase:
Thanks for stopping by!
Sharon