Ray O'Bannon is a talented artist who created Ravenscraft.
Since it is finally fall/autumn, I thought I'd share some of my favorite Ray O'Bannon Haunted Toys.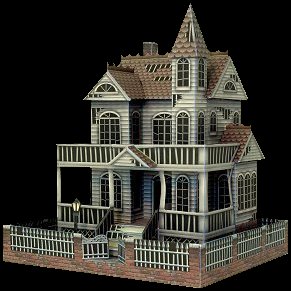 Of course, it's The Ghost House!
It also has a Secret Chamber . . .
Well, as I remember the story . . . The house was built in 1820 by Captain Joshua Harsh. Yes, his temperment seemed to match his name. He was a seaman — a Ship Captain as I recall . . . but he was rumored to be a pirate . . . and into the dark arts.
He built this house, but the building only occurred at night . . . not a strange occurance in Ravensblight . . . but all the same, it seemed quite odd.
He did bring home a bride to his new home . . . who was heavily veiled . . . 
And she died mysteriously after lighting the lamp post in the yard . . . do you see it?
That lamp post still burns brightly . . . even to this day . . . inspite of other residents who purchased this property . . . and is still burning as it is awaiting a new owner . . .
This papercraft has a Secret Chamber which I mentioned earlier . . .
That's what makes this paper craft Ghost House so special to me! I can put some of my own "treasures" inside.
I've made several of these in the past and given them as gifts . . . I wonder if they found the treasures I selected for them . . .
It really doesn't matter — about the "treasures" . . . just that there is a secret chamber waiting to be discovered.
I also added some spooky characters to dress us the place a bit . . . 
There are two sets . . . It is difficult to decide which are my favorites so I have a selection from both sets decorating my Ghost House . . . and, of course, you can do the same . . .
And, my Ghost House has a story all of its own . . . I just did that for my own amusement, but you can be true to Ray O'Bannon and stay with his story . . .

I kind of like having a mad scientists . . . or maybe a coven of witches building this Ghost House . . . and, of course, mine isn't from Ravensblight, but built in my own hometown . . . which has a colorful haunted history all of its own . . . for those who are interested . . . but not everyone is into ghosts and real ghost stories . . .
Seriously, who wants to know that such "interesting" monsters are haunting their hometown . . . ???
All of these Free Printables are compliments of Ray O'Bannon over at Ravensblight. Just click any of the images above to print out your Ghost House and Micro Monsters.
Thanks for stopping by! And Happy Fall to you!!
Sharon