Witches, ghosts, goblins, ghouls . . . Pumpkins, skeletons, spiders and spider webs . . . Mummies and monsters . . . Super Heroes and cartoon characters . . . Pirates and Princesses . . . And so very many more "things" that go bump in the night on All Hallows Eve . . . 
Or are in costume greeting us at our door hoping for a sweet treat.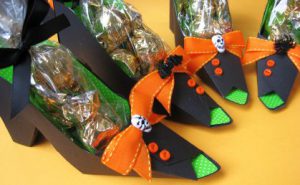 Yes, Halloween is definitely in the air. I noticed Amazon has their Halloween Shop open. I'm sure everyone is looking for just the right costume for each member of their family . . . I wonder what it will be?
These witch shoes are always fun to make and give as gifts this Halloween season. It works for different age groups and can be decorated to go along with the theme of your party or get-together.
You can use your own designer paper for the inner lining and for the shoe as well. It can be creepy or funny . . . depending upon how you view Halloween.
Click the links above for the PDFs of the shoe and the lining. Then find ribbon and buttons and maybe some suitable clipart that will decorate your witch shoe quite nicely. It's always fun to have designer paper at least for the inner lining, but you can use any solid color . . . cardstock does work well for the shoe . . . it needs to be sturdy to hold your bag of assorted goodies.
This is a fun way for your children to give candy to their school friends . . . and even for their teacher.
Start early with this project . . . you'll be making dozens of them.
Thanks for stopping by!
Sharon