This is so exciting!!
These goggles are from RavensBlight and look so steampunk.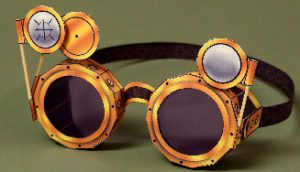 You can personalize them, too. I'm sure you and your children will come up with hundreds of variations — different colored lenses, using plastic sheets, adding metal gears, buttons, feathers, wire, pipe cleaners, stir sticks, or whatever you have around the house.
I think this would make a fun family project one evening . . . or a rainy or snowy day . . .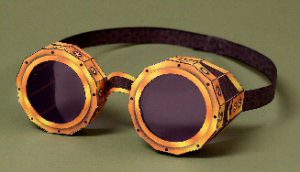 I'm trying to tie them into some holiday celebration, but nothing comes to mind . . . unless for a birthday or even Valentine's Day . . . definitely for next Halloween . . .
They just need a story to go along with them. I'm surprised Ray O'Bannon, the creative genius behind RavensBlight hasn't come up with one.
I'm thinking of how a busy mom got looking around the haunted toys of RavensBlight and came across this pair of goggles. They were just plain ordinary looking goggles, but when she put them on . . . she couldn't believe what she saw. She saw herself in her home, working on her paper craft projects. She also saw the laundry coming out of the laundry room, marching up the stairs and folding up to fit in drawers or put on hangers in the closet. The vacuum was running itself and the dishes jumped into the dishwasher . . . after the cycle jumped into the cupboards.
Was this some futuristic thing . . . could these goggles be used to program all her daily and weekly tasks to complete them automatically?
She had to know.
She found a panel of gears and gadgets . . . would these work? She wondered. She found some levers and thought about mounting them on her goggles . . . she found some wire . . . all color-coded . . . She changed the lenses to different colors . . . Piece by piece she created her goggles and while going through the process thought of each piece as being a task.
By the time she finished making her goggles, she decided it was time for her to begin straightening up the house . . . but everything was done.
Looking at the time, she grabbed her keys to go pick up the kids. While waiting, she thought of the goggles . . . and other tasks she would love to have them perform . . . fresh baked cookies . . . groceries . . . dinner cooking in the oven . . .
If she could do all this from a pair of goggles . . . where would the possibilities end . . . Then she shuttered, "Oh no! The kids could make a pair that would do their chores and even do their homework for them . . ."
She decided to hide her goggles the minute she got home. No way was she going to allow these goggles to get into the wrong hands . . .
Isn't that something. Something so powerful that could benefit everyone would give a mother pause . . . afraid of what would or could happen if gotten into the wrong hands . . . 
Well, I'm not concerned they will get into the wrong hands. I'm hoping you will make dozens of these and show your children how to make them, too. Maybe they could tell their own story of what each part could do . . . It would be valuable family time you can share.
Just click one of the images of the goggles above to be taken to the PDF — sorry, I got caught up in my story.
Click here for the Assembly Instructions.
Thanks for stopping by!
I hope you make up quite a few of these goggles and have a fun time paper crafting and imagining with your family.
Sharon