Snack recipes are always welcome for Thanksgiving . . . Or between Halloween and Thanksgiving.
Here are my suggestions for making this delicious snack for your family and friends.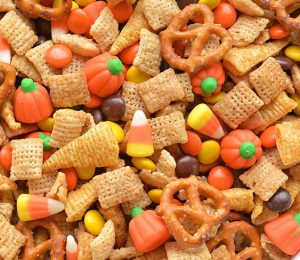 Harvest Chex Mix
Ingredients:
1 box Rice Chex Cereal
1 bag Bugles
4 cups Pretzels
1 cup Candy Corn
1 cyo Candy Corn Pumpkins
1 bag Reese's Pieces
Feel free to add pieces of your favorite left-over Halloween candy
Sauce Ingredients:
Yes, there is a buttery brown sugar sauce that goes over the mixture before popping it in the oven.
3/4 cup melted Butter
3/4 cup packed Brown Sugar
2 tablespoons Vanilla Extract
Directions:
Preheat oven to 275°F
Melt the butter in the microwave
Add the brown sugar and vanilla extract to the melted butter and whisk until combined and dissolved
In a large bowl, add the Chex, bugles and pretzels
Pour the sauce over this mixture and toss gently until evenly coated
Line two large baking sheets with parchment paper
Divide the mixture on the two baking sheets, spreading in an even layer on each baking sheet
Bake for 45 minutes, stirring every 15 minutes
Remove from oven and allow to cool.
Put the cooled mixture into a large bowl
Add the candy
Toss to combine evenly
Store any left-overs in an air-tight container
Well, there you go! It's a great treat that will give you a fun Fall taste.
Thanks for stopping by!
Sharon