Who Doesn't Love Spa Quality Highly Absorbent Linens
I recently discovered that a large quanity of my bath towels have been deemed dog towels … Yes … They were getting a bit shabby … So this was an excellent opportunity for me to pamper myself with some quality Chakir Turish Linens.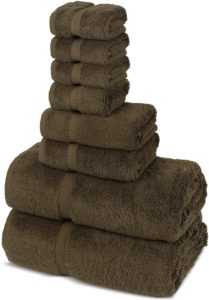 These get softer and fluffier with every washing!!
It is recommended that you wash them before using to allow the fibers to open up and give you that absolutely yummy feeling of luxury!
It's Truly Wonderful To Treat Yourself And Your Family To Quality And Luxury
You can save money on buying towels of lower quality, but I truly believe they will begin looking shabby faster than those of higher quality.
Perhaps you and your family will love these so much that they'll bathe more … just to have an excuse to use these towels …
It doesn't seem like such a bad idea now does it …
Thanks for stopping by … and get some new towel sets just to dress up your bathroom … 
Sharon