Jigsaw Puzzles Are Great Family Fun!!
Jigsaw Puzzles are great for all ages — I remember doing them with the adults when I was just a kid. I felt so grown up when I found a piece! It is a relaxing exercise and allows for casual conversation. It helps with observation skills and spatial relationships. Who thought something fun could be educational? And there are a variety of Halloween-themed jigsaw puzzles — some with over 1000 pieces. This would truly be a wonderful challenge for the upcoming Halloween season!
It will definitely give a spooky creepy vibe to your Halloween gathering. It's an enjoyable way to blend groups of people together — this activity invites engagement on a casual social level.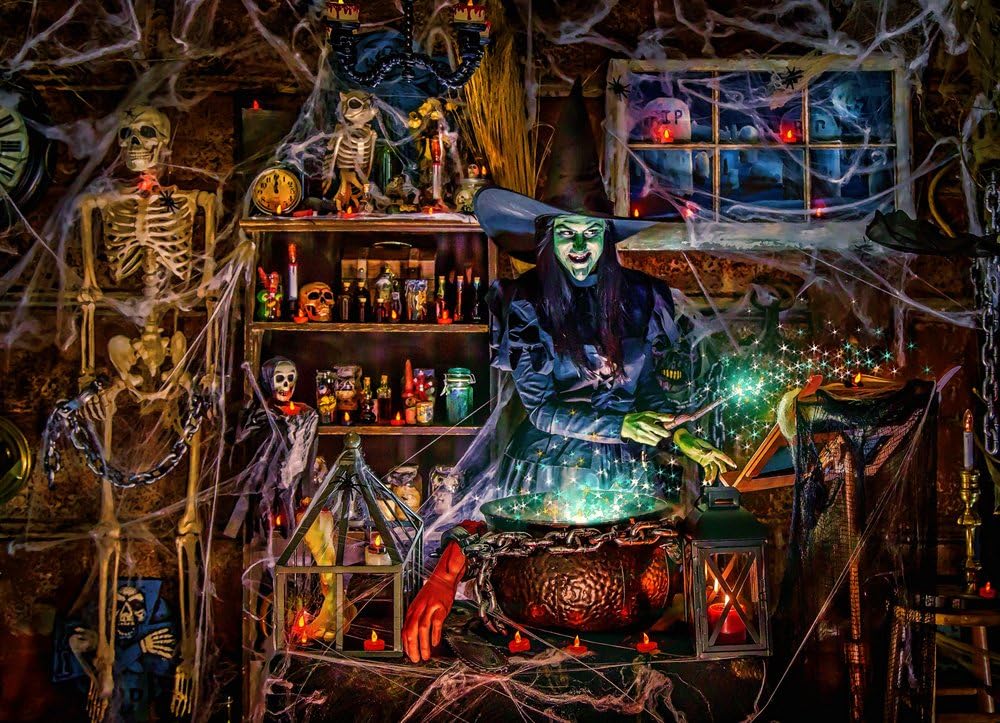 Unleash the magic within and embark on a captivating adventure with this Vermont Christmas Company Witches' Brew Jigsaw Puzzle. Prepare to be enchanted as you immerse yourself in hours of bewitching fun, solving this challenging 1000-piece puzzle. Each piece is uniquely shaped, putting your brain to the ultimate test. Share the enchantment with family and friends, as the fully interlocking Halloween puzzles bring the joy of the season to all generations. Take a break from the toil and trouble of daily life, and let this Halloween puzzle whisk you away into a world of relaxation and mental stimulation. Crafted on durable and premium quality board, this 1000-piece puzzle is not only entertaining but also display-worthy art. Every completed piece can be easily mounted and framed, adding a touch of spooky spirit to your decor. Looking for a thoughtful treat without the trick? This Halloween jigsaw puzzle makes perfect presents for the holiday or special occasions. Surprise the puzzle enthusiast in your life with one of these cool and captivating puzzles today.
This is only the beginning of the Halloween Jigsaw Puzzle selection that awaits you! I was completely amazed and enchanted — there is something for every taste — some are scary and others are comical . . . What's important is that there is the perfect Halloween Jigsaw Puzzle waiting to be ordered by you for your family and friends to enjoy! Just click the picture and you'll be taken to a secure area where you can purchase or make other selections.
Let's Take A Look At The Wonderful Halloween Selection
Vermont Christmas Company Has To Offer In Their 1000-Piece Jigsaw Puzzles 
I Made My Selection — Little Goblins and Halloween Barn Dance! How About You?
Now that was fun! Vermont Christmas Company has a selection of 550-piece jigsaw puzzles and some that are smaller. I do like their puzzles — the pieces are interlocking and randomly shaped. Each piece is produced on thick, premium quality puzzle board. These puzzles are made with recycled materials. All of these Halloween puzzles are perfect for building anticipation leading up to the holiday.
I hope this post was enjoyable for you. I got caught up in the whole Halloween vibe — the nostalgia thinking about when I was a kid dressing up and going out on All Hallows Eve to see the other neighborhood kids in their costumes and smiling faces in anticipation of the sweet treats we would be collecting. A Halloween Barn Dance does seem like a fun way to spend Halloween — I remember going on a hayride one year. It was cold, but it was fun!
Thanks for stopping by!
Sharon