It's Interesting How Some Toys I Had As A Child Are Still Available … With Improvements, Of Course
I found my old Mr. Potato Head toy set quite a long time ago when I was moving … A baked potato worked better … I remember using an apple, a pear and even a banana to decorate with silly faces. It was fun … My mom gave me a little plastic bucket to wash my Mr. Potato Head parts before putting them away … And, of course, there were no food items hid under my bed …
I remember it being a fun toy … mine had a head shaped styrofoam piece in it to use instead of a real potato or other fruit … 
Jessii Vee's Video On Mr. Potato Head Along With Her Personal Stories
You Can Bring This Nostalgic Toy Into Your Home Once Again For Your Grandchildren
I think it's great how old toys have either stayed popular or come back to a new life to be enjoyed by another generation of children.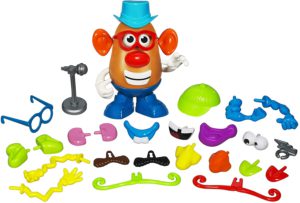 I'm all for safety and for toys children can play with supervision by their parents or an adult … These small parts could be a choking hazard … Too bad they don't have a set such as this with parts you can eat … Just stick them on your potato or any other fruit and then enjoy them … But that may be another item for me to write about …
I hope your enjoyed this post … I'm still a bit creeped out by the intruder on the stairs wearing a Mr. Potato Head mask …
Thanks for stopping by!
Sharon