We're getting closer to the 4th of July!
I'm going to put my flag out early this year so it can proudly wave in the summer breeze.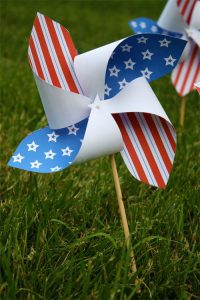 We're in our hazy, crazy, lazy days of summer. It is warm — some days downright hot . . . but it is summer and we love the slower pace of things . . . except for the traffic. Everyone is out and about — some still working while others are deciding on the right spot to vacation. There are those who have gotten their backyards together for BBQs and summer entertaining.
You can make several of these pinwheels and place them throughout your yard. They're an easy way to get red, white and blue colorfully displayed.
Just click the picture to the right and you'll be taken to the PDF to print out.
These work well using a pin and pushing the pin into a pencil eraser. If you want a longer stick, it is suggested that you put a pencil eraser on the top of the stick and push the pin into it. Adding a little bead between the back of the paper and the eraser gives a bit of freedom to the paper pinwheel allowing it to spin easier.
These are colorful and look nice in the flower beds, too.
These are great to make and set out on all patriotic holidays. It's a nice way of showing America's colors.
The most important thing to me is sharing time with family and friends. We are truly blessed in so many ways . . . it's a nice time to reflect upon our many blessings while watching the firework displays . . . or eating a nice cold slice of watermelon . . . after having a hot dog or hamburger . . . or BBQ ribs . . .
Don't forget to make s'mores . . . or whatever your family tradition.
Be safe!
Sharon