St. Patrick's Day makes me think "green." Then there's smoothies — those delicious and healthy suck-through-a-straw treats. Green, healthy, low fat, gluten free and let's add vegan. All right! That's moving us in the right direction for a smoothie. No artificial coloring. All natural ingredients.
Have I hit a snag? Yeah, yeah, I know I'm going a bit far, but the question is: Can I deliver? Yes, yes, yes, indeed I can. Need an image?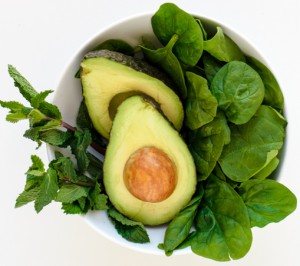 That's not all the ingredients, but it's giving you a major hint. You're going to need avocado, spinach, mint . . . don't wrinkle your nose, it's going to be delicious. 
St. Patrick's Day Smoothie
This recipe makes one delicious serving
You're going to put these ingredients in your blender, then puree to blend thoroughly:
1/2 of a medium avocado without the skin and the seed

1 cup firmly packed fresh spinach leaves thoroughly washed

1/4 of a cup firmly packed fresh mint leaves — you're going to need about 20 or more of them (thoroughly washed)

2 large bananas, cut up and frozen

1 to 2 tablespoons of honey or sweetener of your choice — remember less is more

3/4 cup unsweetened vanilla almond milk

1/4 of a teaspoon of pure peppermint extract
Once it's all blended together you'll see it's a nice green color. Doesn't it look delicious? Pour it in a nice glass, give it a bit of a taste for sweetness. Add what you need. Then spritz on some whipped cream and some chocolate sprinkles. You could do shavings of those chocolate mint candies of your choice to carry on the "green" theme to the very top of your smoothie. Add a straw and enjoy.
It's good, huh!!!
Thanks for stopping by. Be sure to tell a friend or two or twelve 🙂