Yes, Indeed, It Will Be Here Before You Know It
I know I did rush right into Easter . . . but I'm slowing down a bit and get with the calendar.
And I'll do you one better . . . I'll include St. Patrick's Day . . . All Free Printables.
Yes, I have been focused on crafts lately. And it may continue for awhile . . .
I'm getting serious about paper crafts . . . getting into the mechanics of the process . . . and seeing what I can make on my own . . .
I've shared with you several 3-D free printables from various websites. I do appreciate them as you may also. But there does come a time when it is necessary to venture out and create some unique designs for yourself.
It would also be a challenge for me to be able to complete a project from concept to completion.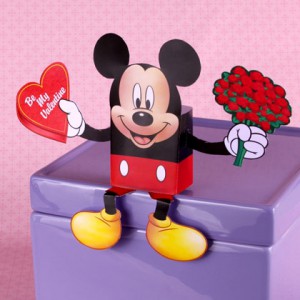 With the New Year, it is always nice to have a goal to work towards throughout the year. And, if it takes me longer, it will merely be a continuation into the next New Year.
I do enjoy the flexibility of goals. They remain a goal until completed . . . and since they are your goals, they can be altered from time to time to reflect the new direction you may be moving.
As Promised, Here's St. Patrick's Day Mickey
Yes, he is a candy box.
It's fun to give these throughout the year. I love it when children save them and set them up in their bedroom on a bookcase shelf. It does make a colorful display.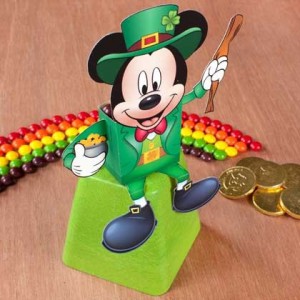 And since Mickey Mouse is into the St. Patrick's Day Spirit . . . Minnie Mouse decided to join in the fun. Soon you will have two more candy boxes to make and share with those loved ones who are Mickey and Minnie Mouse Fans.
This should keep you busy and ahead of schedule.
It's delightful to be ahead of the holiday than rushing and trying to catch up.
I know the stores get things out for Valentine's Day right after Christmas. They are reminders for us to get them now before it is too late.
I don't know if there are Valentine's Day parties at your child's school. If so, you'll need to either make Valentine's Day cards for handing out to classmates or purchase them . . . if you make them, you can get creative.
It's always fun to give cards with treats in them. Or that have a fun theme that features a favorite Disney character. There are plenty for both boys and girls.
Remember to click the image to be taken to the download page.
This wraps up another post . . . come on back to see what I've added. I do try to add something new every other day, but sometimes time does get away from me.
Until next time,
Sharon