All Hollows Eve Is My Time Of Year!
The fall season comes around and everyone in my neighborhood is eager to get out and do some major yard decorating — of the scariest and freaky kind with pumpkins and creepy stuff hanging from the trees . . . maybe a graveyard or two . . .
I enjoy going to a Pumpkin Farm and selecting pumpkins for carving. It's fun if they offer a hay ride and a maze to explore and get lost in . . . And, it is wonderful when people come wearing costumes . . . Yet, not too scary . . .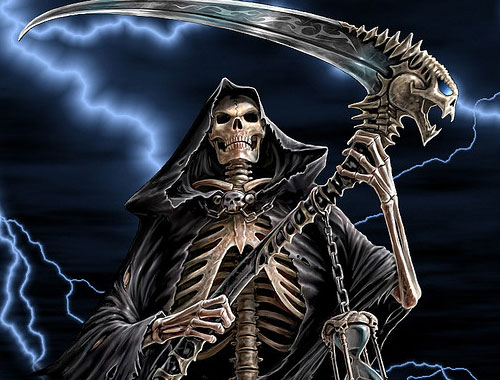 It's good to get a caramel apple to bring in the season. I know a place that has fresh apple cider for our enjoyment as well. There are a lot of activities that many places may offer with all kinds of foods and merchandise you can purchase. I've never really been into bobbing for apples . . . but that could have been for an earlier time.
I do enjoy watching pumpkin carving contests. Some people are very clever and creative. It gives me ideas for carving my own.
Two Of My Favorite All Round Halloween Pictures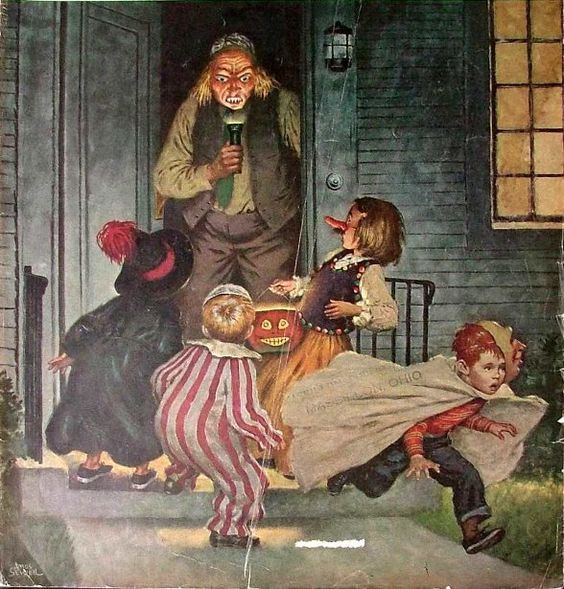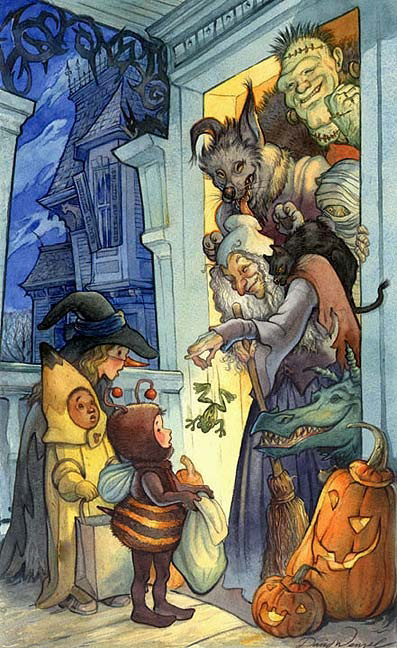 Trick-Or-Treating Was A Big Deal When I Was A Kid
We didn't wear our Halloween costumes to school. The big unveiling was that night after dark when the neighborhood seemed to come alive.
I lived close to the curve of the cul-ta-sac and it was a bit frightening to see a huge mass of kids coming up the street towards you. Our streetlights weren't all that bright. They would cast a shadow beneath it . . . Kind of creepy now that I think of it.
I think what made trick-or-treating so much fun was running around the neighborhood after dark. I know my friends were all about the candy. I thought it was really fun going door to door, ringing doorbells, and having the neighbors answer and greet you. It was kind of cool.
Back then, I don't remember too many people with elaborate decorations. There were mostly carved pumpkins. But, my focus back then may have not been on Halloween decor. I don't remember any bats flying around or witches riding on their broomsticks. Now, that would have really been something!
Most of the time when I talk to people about Halloween and trick-or-treating in particular, someone has a story to tell about a creepy house at the end of their street or a few blocks away. Of course, they have to go there. And, of course, the house looks worse in the dark with the shadows and the imaginations of the participants running wild.
In this one story, my brother and his friends were greeted by a creaky old rusted gate that swang slowly in the autumn night air. As they stepped past the gate and before going up the steps to the porch, they heard the crash of trash barrels and the screeching of cats.
Fortunately, I wasn't there, but if I had been, I would have promptly been about halfway home by the time the others gathered on the front porch.
They did gather on the porch and finally, one of them was elected to ring the doorbell. That sound echoed throughout the interior of the house. As they waited in anticipation, after a while they realized the house was empty and no one was coming to answer the bell.
I Admit The True Story Was Quite A Let-Down
Of course, my brother and his friends, over the years had several variations to this particular haunted house trick-or-treating experience.
My favorite rendition was that the front door was open and with the sound of the doorbell, the door creaked open a bit wider. 
One by one they slowly crept into the dark interior of the house. It had been abandoned for several years. Over time, the place decayed — the smell was awful. They had to be very careful placing one foot in front of the other and not falling through wide gaps in the floor. 
A few of the boys ventured upstairs while a few others decided to make their way back outside and wait on the porch steps.
Years later, I did visit that old house as an adult. It did smell bad and it was a complete disaster inside — the floor was pretty much gone and the stairway had a lot of broken steps. 
I always find it sad to see a beautiful old house go to decay. I imagine there was once a fine family that lived there and thoroughly enjoyed that house. But the weather, neglect, and being unable to afford proper maintenance, the place ended up being condemned and eventually torn down.
Well, I know I do need to work on my trick-or-trick stories and get into the Halloween spirit.
Thanks for stopping by!
Sharon