Have you ever thought of something about yourself and then someone else says something similar to what you thought, but in reference to themselves?
Yesterday I was talking with a couple of my internet marketing friends.


Out of the blue he made a reference regarding the direction he wanted to focus with his on-line business.
Everything he said, echoed a similar thought I had earlier in the day about the direction I want to focus my paper crafts.
He's interested in woodworking and has a website about it, but he hasn't done a lot with it. He's busy building websites for others and with his other websites. But last night he stated he was going to focus on that website more and do more woodworking projects.
The parallel for me was from the post I wrote yesterday about the Village Dwelling die cut and all the variations that were possible and how Tim Holtz made other die cuts to change the Village Dwelling into a church or with snow on the roof, also changing it to a surf shack, a manor and a bungalow. My thought earlier in the day was about focusing upon making variations of these village pieces. For example, I was wondering how many different ways I could make the surf shack different . . . different roof, siding, setting . . . decorations for different holidays and seasons . . . Maybe make it into a little market place with a restaurant, fish market, vegetable market, ice cream parlor, antique store . . . 
Then, I thought, instead of using the Village Dwelling die cut, I'd use the Village Brownstone, it's taller and has nice windows on the roof. It seems quite interesting. From the image on the right, it can be changed into a church or school, the roof can be changed . . . and you can always change the siding and remove the windows . . . even change the windows and the shutters . . . You won't need a die cut for this, just paper scissors and imagination.
The Village Brownstone doesn't have a base, but you can always add one . . . raise it up and make a porch in front with steps . . . you can add a garden to the side . . . or whatever would be appropriate for Halloween . . . could you make it spooky? Have a pumpkin patch in the side yard? Instead of flowers use pumpkins . . . or have a Thanksgiving feast in the side yard . . . Or decorate it for Christmas with trees and snowmen . . . I can see making it into a one room school house . . . or something for Easter with bunnies and Easter eggs . . . Or maybe a fairy tale house with gnomes and woodland critters . . .
I've been thinking for quite some time about doing YouTube Tutorials, but never decided upon what I wanted to concentrate upon . . . I've always liked making things with a purpose, but cards just aren't my thing . . . Then I thought about boxes . . . Lots of people are making boxes and designing them . . . Then I thought of these die cut houses and the variations. I've always admired the work of Ray O'Bannon of Ravensblight and Ray Keim of Haunted Dimensions . . . And many talented crafters on YouTube who get a die cut and do amazing things . . .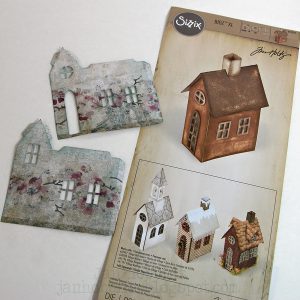 I don't know how amazing I'll be, but there is something to be said about sitting with die cut pieces in front of you and how you decide to decorate them, assemble them . . . add to them and modify them . . . You can make it wider by adding another piece to it . . . add more windows . . . attach another piece to the side of the Brownstone . . . an addition of some sort . . . a greenhouse, perhaps . . . Anything and just about everything is possible . . . Just dream . . .
You could even do things with gears . . . giving it a Steampunk feel . . . or add wings . . .
I was thinking of making a matchbox-type of base for it. This would give you a secret compartment to put some treasures inside . . . or make it larger for a mini-album . . . Those are always popular . . . We always like to have our loved ones pictures close by . . . Or you could have a story about the origin of the house . . . Who lived there . . . and how it came to be part of your village . . . There is always a story to be told . . .
I don't know how others do it, but I want to give it a try. If you'd like to join me in this venture you'll need a Big Shot or a Vagabond to use these Sizzix dies by Tim Holtz.
Here are some links you may find helpful"
I thought I'd include some accessories to go along with the Sizzix die cutting machine and the Village Dwelling Die, if you'd like to purchase Tim's other dies to make the Village Manor, Village Bungalow, Village Surf Shack, Village Winter and The Bell Tower. I think the more dies you have, the more variations you can make. You will need the extended cutting plates and the crease pad for the score lines to imprint on your card stock or chip board.
Thank you for stopping by!
Sharon