Healthy Breakfast Or Quick Snack Full of Protein
Here's a healthy "on the go" snack that you can make in a jiffy.
You're going to need: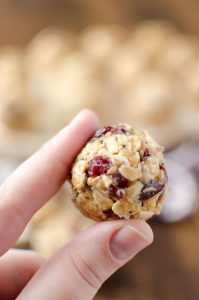 1 cup of oatmeal
1/3 cup of chopped almonds
1/3 cup sweetened shredded coconut
1/2 cup either peanut butter or almond butter
1/4 cup of honey
1 tablespoon of chia seeds
1/3 cup of dried cranberries roughly chopped
Here's what you need to do now that you've gathered your ingredients:
On a baking sheet you're going to bake the oatmeal, almonds and coconut for 8 to 10 minutes at 350° F. Be sure to stir the mixture after 5 minutes. Then allow the mixture to cool after taking it out of the oven.
Get out a medium sized bowl — put in the nut butter and microwave for 20 to 30 seconds until runny.
Add the baked mix into the bowl along with the honey, chia seeds and cranberries.
Form into 1-1/2 inch balls and refrigerate.
Store in an airtight container.
Refrigerated bites are good for about a week. They'll keep in the freezer for up to 3 months.
I hope you'll try this recipe. As always you can add other ingredients or substitute ingredients or just leave them out . . . Just have fun and make some healthy snacks for your busy family.
Until next time,
Sharon