This is definitely quite timely with St. Patrick's Day coming steadily our way.
Now, I'm not trying to be a spoil sport . . . but there have been books about catching Santa . . . and now a leprechaun . . . they are quite clever . . .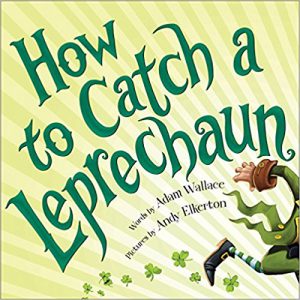 I'm wondering if the fun is in the pursuit . . . Yes . . . in most of life's lessons it comes down to the journey being more important than the destination . . . but this isn't about our life's journey . . . it's about catching a Leprechaun . . . or could there be a comparison . . . I wonder . .
If you're in the market for a fun read for children ages 4 to 10 years . . . then maybe this is the right book for your child.
From the reviews I've read this is the kind of book children want to hear or read for themselves over and over and over again . . . but it's quite all right because adults enjoy reading it to them.
You and your children can have some great fun trying to catch a leprechaun in your own house . . . do you have mischief makers who eat the last cookie and leaves a gold coin in its place . . . or are there gold coins appearing . . . could there be a pot of gold right in your house?
This is a fun book to get your children using their imagination . . . and perhaps . . .  trying to catch a leprechaun . . .
There are wonderful illustrations within this 32 page hardcover book that is built to last!!
You, your children and the whole family may also like:
That's quite a nice selection for kids of different ages . . . some are a series of books your children may enjoy as well.
Oh! by the way . . .
Thanks for stopping by and using the links to do your shopping!
Sharon