These gift boxes seemed to have been popular a couple of years ago.
It may be time to bring them back!
I do seem to get excited about things after their time has passed. I can't believe that they're not still popular. They are definitely cute.They are appropriate to decorate for all seasons and all holidays and special events.
Perhaps you can say that about all gift boxes.
I just know that these are a shape that seems to capture one's imagination with all kinds of critters and holiday icons. They've been made into pumpkins and apples, turkeys and mummies, Santa's and elves . . . even those ninja turtles and minions . . . and just about everything else.
What's truly great about these gift boxes is that they go together without any glue. You just need to use a bone folder to curl the sides to help them along a bit and the end pieces fit together. They do hold together quite well and there's plenty of surface space to decorate and add embellishments. And there's plenty of room inside for some tasty treats.
Click the picture of the pumpkins and you'll be taken to the PDF template to download and print out on your personal computer.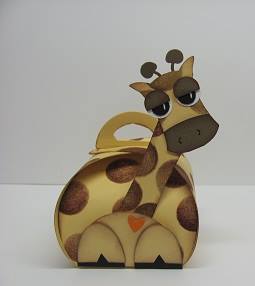 I do like the giraffe . . . You can get as creative as you like with these. They are the perfect shape for a special gift by just using designer paper and adding a tag or a ribbon.
You can deck them out in the colors of your favorite football team or basketball team or baseball team or . . . and then there are all the great cartoon characters and super heroes . . . and the list can go on and on and on.
I'm sure there are some animals or food or characters you'd like to put on your curvy gift box. I'm wondering how it would work with a haunted house for Halloween . . . or a graveyard . . .
Maybe you could do something Steam Punk or Pokemon Go . . . That should definitely be a hit with the kids . . . young adults . . . and even older adults. It's amazing how some things have taken off . . .
Well . . . I think you have plenty of ideas now . . . probably without my help . . .
Be sure to click on one of the pictures and you'll be taken to the PDF template to download and print it out. I think once you get started you'll want to do more. And when the kids see them . . . they'll want to make them, too.
Have fun!
Thanks for stopping by!
Sharon