This is my 500th post here at TwoCansOnAString.com — I should make it something special.
With Valentine's Day right on our heels, I think maybe something to print out would be in order.
Something simple for a children's school or church party.
Or something for you to give your special valentine's.
These Disney cup cake toppers and cup cake doilies are great . . . you can pack the cup cakes in a lunch or have them for dessert. They do look lovely.
For the toppers, just glue on a toothpick . . . and for the cup cake doilies, you'll wrap them around the cup cake papers to make them look festive.
Just click the image to the left or to the right to download the PDF and print out.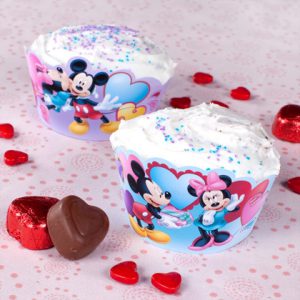 I do like these. I'm also wondering about other things that may be of interest to you . . .
We've done the Valentine Mickey Candy Box and the Valentine Minnie Candy Box . . . but what about a Stitch Valentine Candy Box?
The links above will take you to the PDFs to download and print out on card stock. I think that would be enough to keep you busy this day before Valentine's Day . . . I'm always thinking something else might be fun to make for you to give or decorate . . . or for your children to make and give to friends . . .
Something simple, but fun . . .
How about some Disney Lollipop Labels — They're a Valentine that has a lollipop attached. They are cute and fun for your children to hand out to friends. There are five of them — Mickey, Minnie, Donald, Pluto and Goofy. I think they would be fun just to have around the house . . . or give at work . . . You could have them in a cup and people can pick the one that appeals to them.
There are a lot of links on this page for you to click . . . I do hope in this 500th post, I have something you like . . . if not, it wasn't for lack of trying on my part. Thank you for stopping by!
Sharon