Recipes Are Meant To Be Adapted
Easy To Bake Vegetarian Tacos can be made in about 30 minutes — you can keep them vegetarian or add beef or chicken . . . or add other vegetables or any ingredient of your choice.
Ingredients Serves 4:
1 package baked corn tortillas — organic if possible — 8 to 10

1 can seasoned refried beans — organic if possible — feel free to substitute with black beans or cooked and seasoned ground beef, shredded beef or shredded chicken

1 cup of a melty cheese of your choice or a combination — mozzarellla, pepper jack, cheddar, queso fresco, goat cheese

For the Topping: Feel free to improvise — diced tomatoes, scallions, cilantro, avocado, sour cream, hot sauce, lime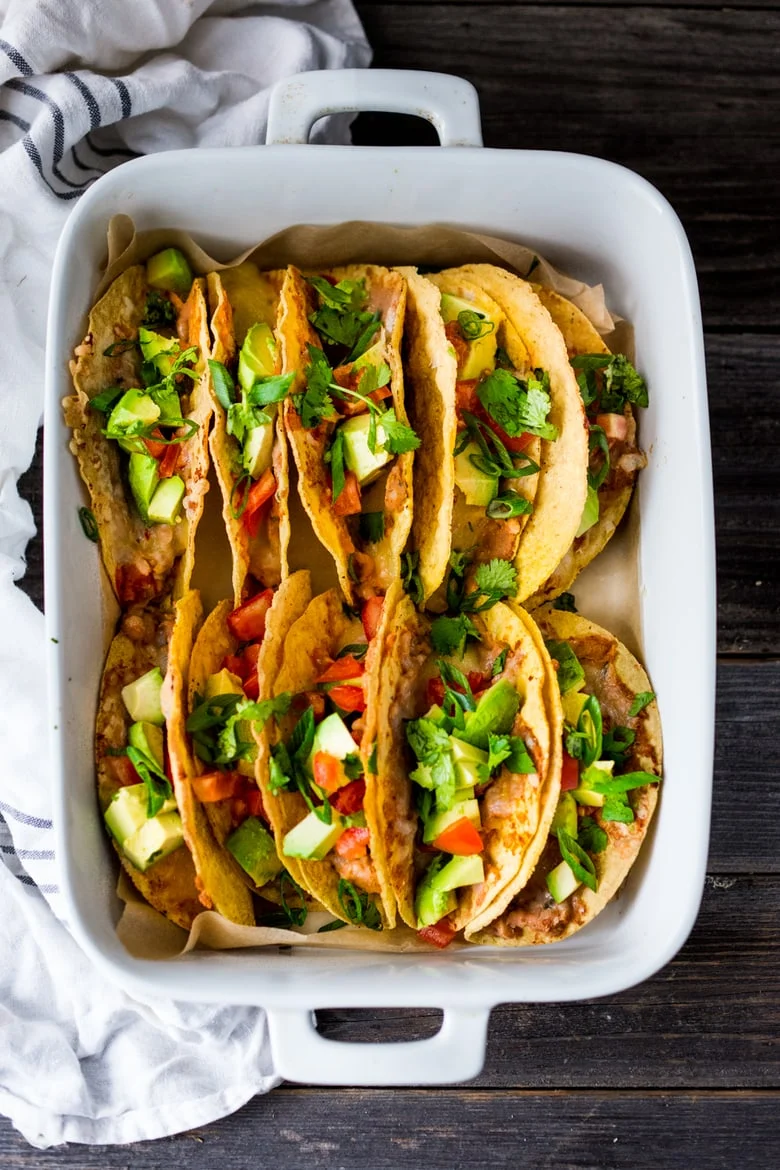 Let's Put These Tacos Together And Bake 'Em
Preheat oven to 375F

Line a 9 x 13 inch baking dish with parchment — or use what you usually use.

You key is to fit the 8 to 10 taco shells in the best possible arrangement.

Stir the refried or other beans — spoon in 2 heaping tablespoons into each taco shell. If you like, you can top each off with a bit of hot sauce to taste, of course.

You can now add your shredded melty cheese to the top of the beans plus any other ingredients you decided to add. Place it into the preheated oven for 15 to 20 minutes — or until warmed through.

While baking you can prep the toppings — or if they're ready to go, kick back and relax.
Garnish with hot sauce, sour cream or whatever your heart desires.
What Do You Think?
This is quick, easy and I believe delicious with all of your fresh ingredients. I would think this would be a go to meal when you're hungry, but not sure what to make. It's great or lunch or dinner . . . a tasty snack while watching a favorite television program or video.
Leave me a comment if you tried the recipe or intend to — what additional ingredients would you or did you add?
Thanks for stopping by!
Sharon