This pre-fall overcast day is quite welcome with the smell of rain in the air.
The forecast is 50% chance of rain . . . and the temperature was at 78° F. It may get a bit warmer . . . and maybe not.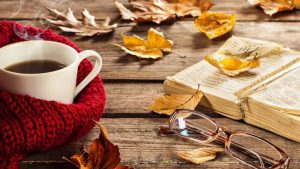 The pre-fall weather and the early fall weather has been a bit stubborn for several years. I always have hope that fall will come and stay. I do seem to be surprised . . . but there is nothing we can do about the weather except enjoy it.
It's always good to get out and enjoy the morning. Everything is relatively quiet in my neighborhood. At one time I thought it a bit eerie . . . like a sci fi movie — remember the pod people? I wondered if pods were behind the closed gates and garage doors . . .
Yes, I have an overactive imagination at times.


It does seem like the perfect day to dig out a jigsaw puzzle. Since my brother moved to Alaska, I've been thinking of nature and the wildlife he sees. This 1000 piece jigsaw puzzle by SunsOut is a beautiful Forest Collage you and your family may enjoy putting together.
The artist, Jim Hansel is a premier wildlife, nature and landscape artist.
The completed dimensions of this 1000 piece masterpiece is 20 inches by 27 inches.
This seems like a sensible way of kicking off the pre-fall season.
This jigsaw puzzle is challenging enough for adults and not too discouraging for children. I think it's a great family project.
You may also enjoy:
I could go on and on with the selection of jigsaw puzzles I'd love to put together with my family and friends . . . This is enough to get you started selecting the jigsaw puzzles you and your family would enjoy.
Thanks for stopping by!
Sharon