Yes, Halloween has finally arrived!!!
Soon there will be happy costumed children ringing your doorbell anticipating some great candy treats.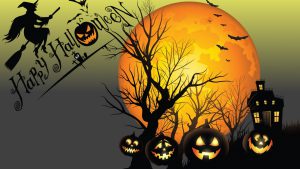 It's a fun night for kids . . . I remember how I enjoyed it . . . running from house to house . . . ringing doorbells and shouting "Trick-or-Treat!!"
Our childhood memories are great . . . and those we shared with our children . . . and grandchildren . . . New memories can be made every day . . .
We are truly blessed with holidays and different celebrations . . . as long as we don't allow the outside world to get under our skin. The news always seems to be doom and gloom . . . but it doesn't have to get you down . . .
There's this board game by that name . . . 
I'm sure I've reviewed it, but there's a newer edition and lots of other additions to it that I thought I'd share with you. It's not necessarily a Halloween game, it works for all seasons . . . It's just a way of putting gloom and doom in perspective . . . to have fun with it.
This game isn't for everyone, but it's always fun when I bring it out for family game night.
In this game you will meet an eccentric family of misfits and assume the control of their fate. The goal of the game is both sad and simple — you want your characters to suffer the greatest tragedies possible before they die. But you will be cheering your opponents' characters with happy occasions.
Does it seem to be a game you, your friends and family would enjoy?
Like I said, it's not for everyone . . . it's designer is Keith Baker. This second edition has improved the packaging, rules have been fixed, there are timing icons, reminder cards and so much more. It is compatible with the first edition game and supplements.
Gloom is recommended for ages 13 and older. The game involves 2 to 5 players. It takes about an hour to play. I do like the game . . .
You may like these supplementary Gloom expansions to bring more . . . mishaps to your game night . . . pleasure . . .
Well, there you go! The wonderful world of Gloom.
Believe it or not, there are Gloom fans!! It has its own appeal . . .
Thanks for stopping by!
Sharon