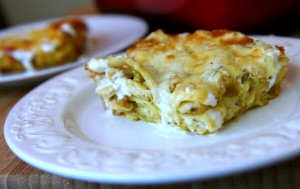 It's hot outside and I'm giving you a recipe to make a hot meal in the oven . . . but if you do this recipe right, then you'll have a feast for several days to come.
Remember, recipes are only a suggestion . . . you can substitute ingredients or add some of your own . . . you can make an excellent lasagna that is made to order for your family!
Green Chili and Chicken Lasagna Recipe
This recipe makes one 8 x 12 inch pan of lasagna that serves 9 to 12. Prep time is about 20 minutes and actual cooking time is approximately 40 minutes, so this is a relatively quick recipe to prepare.
You're going to need:
3 cups cooked, shredded chicken — some have used eggplant or zucchini to make a vegetarian lasagna

2 cups shredded jalapeno cheese of your choice

1 cup shredded mozzarella cheese

15 ozs of sour cream or plain yogurt maybe even heavy cream

10 oz can of fire roasted green chilies

1 cup salsa verde

1 teaspoon cumin

1 teaspoon chili powder

salt and pepper to taste

12-16 no-boil lasagna noodles or you can use flour and/or corn tortillas dipped in green sauce instead of the noodles or eggplant or zucchini to substitute for the noodles.
I've really messed with this recipe . . . I hope you've made variations of your own as well.
All right, time to get this lasagna put together:
Preheat the oven to 375 (F)

In a bowl you're going to season the shredded chicken with cumin, chili powder, salt and pepper. Then stir in the fire roasted green chilies, salsa verde and the cup of jalapeno cheese. Combine it all together nicely.

In the bottom of the baking dish, spread a small amount of the chili chicken mixture.

Top with a layer of noodles or whatever you decided to use either tortilla or vegetables. Spoon or pour your sour cream or plain yogurt or even a cream of mushroom soup (which I didn't add in the ingredients). You want to make sure this mixture is spread even into the corner edges of the pan. Then top with the shredded cheeses — mozzarella and jalapeno.

Continue building the casserole layers, alternating between lays of noodles, green chili chicken mixture and the creamed and shredded cheeses layer.

Cover with aluminum foil and bake in the preheated oven for 30 minutes.

After 30 minutes, remove the foil and continue baking for another 5 to 10 minutes until the cheese on the top has melted and the entire casserole is bubbling hot.

Allow the casserole to cool for about 5 minutes before serving.
I know it may have gotten confusing with the substitutions and the layering, but I'm sure you figured it out with your ingredients.
Thanks for stopping by!