How much Halloween can you fit in a jar?
I know it is way early to be thinking about Halloween, but . . . it doesn't hurt to get started with some of your Halloween decor.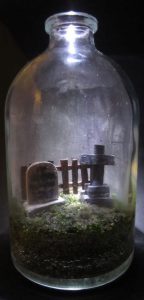 I know people who plan for their Halloween party immediately after their last Halloween party . . . the guests haven't even gotten home when one friend of mine is thinking about next year . . . or maybe a summer Halloween bash.
Some people love this season so much that they celebrate it throughout the year.
With some crafts, it does take quite a while to complete . . . especially if you're making more than one . . . or having fun adding all kinds of stuff to it.
I think it's fun to mix up the holidays a bit and enjoy them throughout the year . . . maybe not formally, but with making stuff. And making a Halloween scene inside a bottle just may be the challenging project you would completely enjoy.
I do like the idea of making a cemetery scene in a bottle . . . maybe a skeleton could be added to the setting with him thinking about his situation or the situation of the person whose grave site he's visiting. Maybe a pumpkin or two would dress up this scene a bit.
I don't know how to do it . . . but it would be fun to use some paper and make the elements . . . stick them in the mossy stuff you put in the bottle — maybe some dirt, too . . . then with a string and a long thin stick you can set things up . . .
Just roll them up, pop then through the top of the bottle and help stand it up in the right location. It could be much more challenging than those video games you're so fond of playing . . . maybe get the family involved . . . see who has the best dexterity skills . . . take advantage of the skills developed playing on the computer.
I don't know about you, but this looks like fun . . . and since I have plenty of time before Halloween . . . I can take my time . . . and make several of them . . .
Let's look at some suitable bottles or jars:
I like the milk bottle . . . the opening is large enough to set your Halloween scene up quite nicely . . . or decorate the outside with your Halloween scene and fill with candy.
Have fun and enjoy making this or a different craft in preparing for Halloween . . . or you could put your party invitation in a bottle . . . that's an interesting thought . . .
Until next time,
Sharon