It doesn't matter the holiday or occasion, creating your own village of original houses is an excellent idea for the whole family.
This is an excellent family project. I believe it is a good skill to teach your children. Once they get started, you never know what they'll come up with next.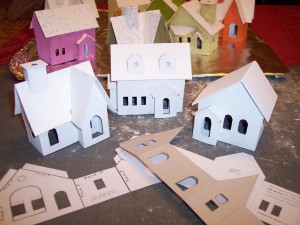 This could be quite motivating for you, too. Wouldn't it be fun to keep your various attempts throughout the years and see the improvement you've all made.
With more practice and trial and error you may be able to create something quite fantastic when all is said and done.
I turn to YouTube for instruction and inspiration. There are many who make houses out of card stock or chip board. Some show how to make the siding of the house and even the roof shingles . . . different windows . . . doors . . . The biggest reward is saying, "I made it myself!!!"
If you need a template to get you started, just click the image and you'll be taken to a PDF file to print out. You may want to resize the template . . . enlarge it or reduce it with a copy machine once you print it out.
You can always go into the archives here for some buildings you may like to put together. This is a wonderful place to begin, if you're not comfortable creating your own designs.
I think you may find in time, you'll want to give it a try, but you'll have several samples from which to choose. Once you put your mind to this, I'm sure you'll amaze yourself with what you can do.
Have fun and see what you can create right along with your family and friends.
For some, crafting is a group endeavor and for others a solitary one. It's up to you what you may want to make for the holiday or special occasion of your choice. Just be sure to give yourself plenty of time . . . and don't push yourself too hard. Try to relax and have some fun.
It may be worthwhile to keep a journal of your attempts and write notes to remind you of what went wrong and what worked out. Take pictures. Make a video. This is your learning process. And also take notes from the instructional videos you've watched. And also of the various PDF files you've printed out and put together. You may want to incorporate some of those pieces into your own creations. You may want to put several pieces from various files together as an experiment . . . I enjoy the haunted houses because they are to look a bit off kilter if you happen to assemble it wrong, no one will know.
Remember, this is a learning process. Perhaps with crafts, you're always learning and trying out new things . . . Everyday can be a wonderful journey and adventure.
And don't be afraid to buy crafting supplies and templates. Two cutting machines I find helpful are:
They can get to be expensive, but whatever hobby you have is expensive . . . unless you make things to sell . . . and that is all the more reason for you to come up with original designs of your own . . . then the cutting tools will definitely be worthwhile for mass production, but please don't lose the essential human element only you can apply to your creations.
You can use the same templates and die cuts and get a completely different look using different papers and embellishments.

Just as a personal note, I'd like to say that I did purchase the Silhouette Cameo II plus the designer edition upgrade. I thought this could do it all for me . . . and it can, but sometimes we like to make life a bit easier and I found that having a Big Shot was a definite time saver for me in the long run. You see, you can buy die cuts and thinlits and save yourself a lot of time and effort . . . and then you may want to resize them which you can do within the Silhouette Cameo software. I believe the two go together nicely in saving you time and giving you an excellent place to begin when creating cards, 3D projects, scrapbook layouts and whatever you decide to create for home, profit, family and friends.
I don't know about you, but from watching so many videos about paper crafts, I found there were a lot of people using the Big Shot . . . people I thought were making their own designs and templates. But, they started with the die cut and made variations. They were also using the Silhouette Cameo once they made their altered die cut image so if a customer wanted the same thing in a mini album or centerpiece, you can bring it from your library and get working on it for that person. You won't have to begin from square one.
Maybe if I was a bit more creative, I'd be able to make it work with just the Silhouette Cameo, but I do like the Big Shot and the magnetic board for holding thinlits in place is a definite "must have." So many companies are making those thin die cuts that can be used with your Big Shot for making boxes, flowers and beautiful embellishments you may want to add to your paper craft creation.
So, this isn't to pressure you into buying these machines, it's just what I do here . . . report on my observations and what I found to be necessary for me to make the things I want to make. And for now, I won't get started on stamps and punches, papers . . . oh my goodness! You can find out what you need from watching the videos on YouTube.
I do hope you found this helpful and informative.
Until next time,
Sharon